Bobcat Bullets: Quinnipiac faces former Atlantic Hockey foe Holy Cross
Updated: October 25, 2013
By Rob Ciambra
No. 9 Quinnipiac men's hockey travels to Holy Cross on Friday for Game 1 of the home-and-home series which is set to begin at 7 p.m. at the Hart Center. Game 2 is set for a 4 p.m. start time at the Highpoint Solutions Arena on Saturday. The Bobcats come into the weekend riding a four game winning streak, most recently defeating Bentley on Tuesday night in Hamden. The Crusaders are 0-3 to start the season, losing games against Hockey East teams Boston University and Northeastern University.
Keys for Quinnipiac: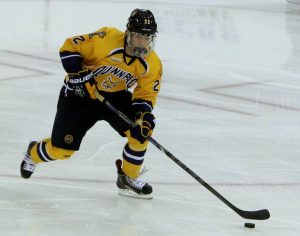 The Bobcats need to take this game seriously. Tuesday night against Bentley, Jordan Samuels-Thomas (West Hartford, Conn.) scored a little more than a minute into the game, but the Bobcats started to lay off the gas pedal after that, barely escaping with a 4-3 win. Whether it's an exhibition game or the championship, the Bobcats cannot let up one bit.
Quinnipiac also needs to watch out for Sean Gustin and Jake Bolton. Though they both only have a goal each in the first three games, they are the most dangerous players on the Crusaders' roster. They may prove to be Michael Garteig's biggest challenge so far this season, but that is up to the Bobcat defense and how well they defend against the Crusaders.
Keys for Holy Cross
The Crusaders need a win, and they need it badly. They begin conference play after this weekend, and to enter it without a win doesn't look good to anyone let alone help their confidence for the season. If there is any team to beat before starting conference play, they want it to be the Bobcats. To beat a top-10 team would be the biggest confidence boost to jump-start their season.
They need to stop the Bobcats in the neutral zone. The Bobcat have many players who can hit the net nine times out of 10, and the only way to eliminate so many shots from getting to their goaltender is to stop the Bobcats before they cross the blue line.
How to tune in:
Friday: Bill Schwiezer has the call of the action on 1220 WQUN or you can follow @QBSN on Twitter for live updates.
Saturday: Peter Rossi and Zack Daly have the call at theqbsn.com and live updates will be tweeted as well.
The 2019 Frozen Four began on Friday night in Hamden, Connecticut, and...

They say that all good things must come to an end. And...

Get excited, Bobcats – a national championship game is coming to Hamden!...
DISCLAIMER: The following audio clip contains explicit language. Cornell coach Mike...

Quinnipiac University's athletic director, Jack McDonald, emphatically denied today having any...

By Brian Farrell, QBSN Staff Writer  With a little less than 200...