A lasting impact
It takes a play to change a game, but a player to change a program. The 2014-15 winter sports season has included streaks, records, and NCAA appearances. Over the last four years both the men's ice hockey and women's basketball teams have gone through major changes to their programs to get them to where they are today. These new identities can be attributed to two players.
Matthew Peca is a familiar name to many Bobcats and one that will long be remembered.
During his Quinnipiac career, Peca has been nothing short of exemplary on and off the ice, according to associate head coach Bill Riga. Peca sits at sixth in the all-time scoring for Quinnipiac with 143 points. Of those points, 101 come from assists which makes him the fourth all-time leader in assists for the program.
"He is complete," Riga said. "A lot of the better players are just scorers, and he sacrifices some of his scoring to kill penalties and block shots and win faceoffs."
Peca passes up the glory of scoring a goal to be the team's playmaker. It is clear what Peca does on the ice is to benefit his team, but looking back on his career, what he has done has also altered the program as a whole.
"He finished his career as one of the players that set a new standard and left a lasting impression and impact," Riga said. "Ten years from now, people—fans here—are still going to be talking about, 'Remember Matthew Peca?' People will have a smile on their face and be proud and say, 'He's our guy; he's a Quinnipiac guy.' His efforts and his lasting impact on the program are great from a hockey perspective."
In his four seasons in a Bobcat uniform, Peca led Quinnipiac to three-straight NCAA Tournament appearances, a national championship game and the program's first and second Cleary Cup wins as the Eastern College Athletic Conference's regular season champions. The program also reached its first ever No. 1 ranking in the USCHO.com Division I Men's Poll in 2013. The team entered the NCAA Tournament that year as the No. 1 overall seed.
Peca was a crucial part of a senior class that led Quinnipiac to 97 wins in four seasons, the most out of any class in program history.
In his sophomore year, he punched the Bobcats' ticket to their first ever Frozen Four, scoring the fastest natural hat trick in NCAA Tournament history.
"He's one of a handful of four or five guys that brought the program from a good compete level and result level to another level," Riga said. "A whole different level of compete, a whole different level of talent, a whole different level of expectation. His effect was by example and result, and by his talent that he was able to be a part of elevating it from a good program to a great program."
It's easy to define an athlete based purely off of stats, but it's what Peca has done off the ice that cements his legacy at Quinnipiac.
"I think one of the things people don't realize is how hard he works," Riga said. "When no one's watching in the gym, when no one's watching him on the ice doing extra work and things like that, people come to games and see the skills but they don't realize all the work he puts into it."
Peca's dedication and character is what will be remembered—and the way in which Peca has conducted himself away from the rink made him the prime candidate for co-captain of the 2014-15 men's hockey team.
"[He's] extremely polite, extremely respectful, and extremely hardworking, and one of the nicest kids you'll ever meet," Riga said.
Peca joined the Bobcats as a 2011 Tampa Bay Lightning NHL draft pick. Having National Hockey League credibility, it was always a question whether he would finish out his stay at Quinnipiac.
"He probably could have left before this past season and gone pro," Riga said. "He had an injury and he had decided that he was going to have surgery and kind of go through the process of rehab and do it here and finish here and get his degree here and put off on the pro career—and I think that showed his character."
This character is something Riga emphasized as essential to changing the atmosphere that surrounds the men's ice hockey team. Peca has embodied what it truly means to captain a team.
"He has helped change the culture of the program, both in the locker room and on the ice, to raise the bar of what we expect of our players," Riga said. "[He] led by example and obviously results and work ethic, and I think over the long term he's one of a handful of guys that have been the catalyst for that effect on the program."
Peca's ability to raise the bar is visible in other places besides the stat sheet. He encompasses all aspects of being a hockey player.
"While some players may have more numbers and more goals, no one in the country has done more on the ice in terms of the little things and different things complete as he has," Riga said.
Being a complete hockey player and perfecting those little things does not come overnight. It's built through carefulness and passion for hockey.
"He goes about his work meticulously in the gym and takes care of his body," Riga said. "In practice, he's at the front of every line and does everything from the drop of the puck on the first drill at full speed and guys have to follow him because he's so fast and dynamic."
What he leaves out on the ice has earned him a two-year, two-way American Hockey League contract with the Syracuse Crunch, the Tampa Bay Lightning affiliate. His hard work, intensity, athleticism and leadership have not gone unappreciated.
"Off the ice he's just picture perfect of what you would want in your program as an ambassador for the team and the school," Riga said. "He's going to make us proud no matter where he goes and what he does and how he conducts himself."
On the other side of the TD Bank Sports Center, women's basketball forward Jasmine Martin has made her own mark.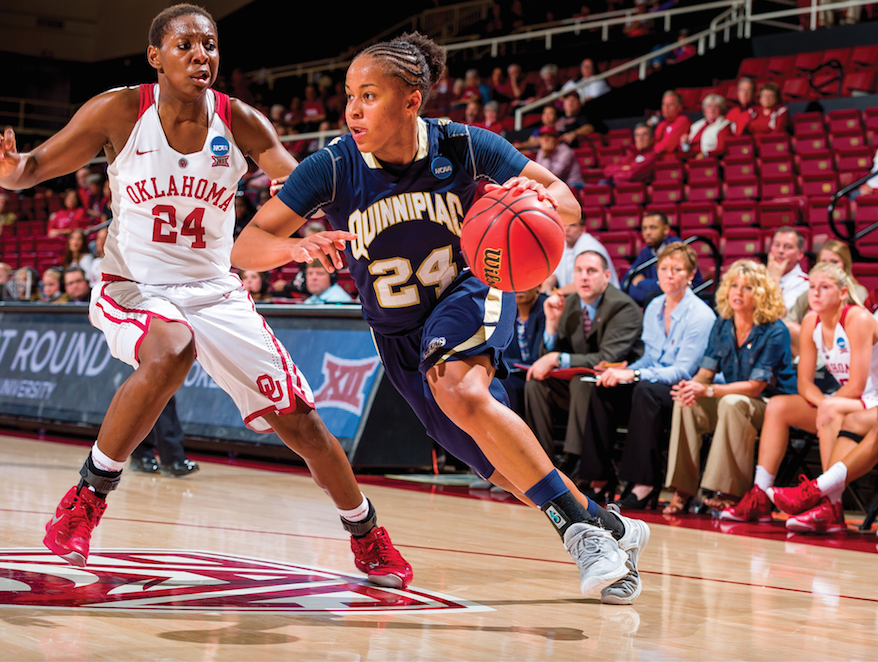 With 1,689 points in 132 games, Jasmine Martin is the third-highest scorer in Quinnipiac women's basketball history. But her legacy only starts there. The Bobcats, in the Division I era, have been uprooted by Martin along with the rest of the class of 2015.
"I just think she clearly is one of the best players, if not the best, to ever wear a Quinnipiac uniform, being the second leading scorer in the Division I era," said women's basketball head coach Tricia Fabbri. "Clearly winning two titles, no other class has done that to date. She's really, arguably the best player ever to play for women's basketball here at Quinnipiac."
Points aren't the only thing Martin has to show for her time in the Bobcat uniform. She has a Northeast Conference title, a Metro Atlantic Athletic Conference title, and was named the 2015 MAAC tournament Most Valuable Player with 57 points in the tournament. Her performance pushed Quinnipiac past the nine-time defending MAAC Champions, the Marist Red Foxes.
It takes a special athlete and leader to propel not only a team, but an entire program. For Martin, it wasn't just about what's on the scoreboard—it was important to her to leave behind remnants of her character and captaincy.
"I think what I've really tried to leave over the last four years was different types of leadership, on the court, leading by example, doing the little things and just playing with heart and passion," Martin said.
Martin did lead by example, averaging almost 13 points per game over the span of her career at Quinnipiac. She is only the second player in program history to average double digits all four years in scoring.
In addition, it's easy for the rest of the team to follow Martin due to her leadership, compassion, and her love for basketball.
"I think the younger girls have watched not just myself, but the other seniors as well, and even juniors and what we've been able to do with this program over the years just by working hard," Martin said.
Hard work, passion, and sweat are what drove Martin and the rest of the seniors to mold the basketball program to where it is today. This was not an easy task for her coming into her freshman season.
"Freshman year was an adjustment; we weren't all in," Martin said. "It was a process—it was a transition process. It was a great learning experience."
Fabbri also reflected on the state of the program before Martin, and how her presence was needed for a transformation.
"We were able to really land a great class to a program that was around .500 and elevate it to where we're just, really, almost ranked in the top 25, and they expect it," Fabbri said. "It's now a program that has garnered national attention and respect for being a really good [Division I] program."
In Martin's four seasons with the Bobcats, she cultivated and nourished the program with fundamentals that ultimately set the team up for success in the future.
"There was no type of work ethic before we came here," Martin said. "I think we instilled that and now that's gonna be the culture of Quinnipiac women's basketball, working hard, making history, changing the program, bringing it from not having too many winnings seasons to having four in a row."
Martin is one of just three women's basketball players to surpass 1,600 career points. Her drive and ambition to be the best on the court has made her one of the best in school history.
"She was totally a next level player that we hadn't seen in this program," Fabbri said. "Her ability to score, her ability to lead, [she's] absolutely the most dynamic player to put on a uniform in a long, long time at Quinnipiac.
Even with being labeled as one of the greatest women's basketball players to come to Quinnipiac, and as a player that's helped change the program, Martin still stays humble, and always credits her teammates.
"I just play the game that I love," Martin said. "I don't even know how to explain how I changed the program, because it wasn't just me. It was a group of girls who loved the game, that wanted to give their all every time they stepped out on the floor; you don't do that by yourself."
Although Fabbri noted Martin has won a fair share of games for the team, she agrees with Martin when she says it took the whole senior class to raise the program.
"She came in with a really highly-regarded recruiting class and they took the program by storm," Fabbri said. "For four years we've been to four national post-season tournaments, we've had 20-win seasons, we made two NCAA appearances, which is just so impressive. She and her entire class have elevated this program to unprecedented success."
The senior leaders have had their own role in elevating the team in terms of performance on and off the court. But it's what Martin does on the court that, in the end, sets her apart from her teammates.
"Her ability to continuously want the ball and the shot in the biggest spots of the game to win it, it's amazing," Fabbri said. "I've never coached a player that is just so comfortable when the pressure is at the highest for the game to be in the balance. She wants that ball to make a play for her team to have success."
When it comes down to the final minutes of a game, Martin's will to win prevails. But it is her dedication to Quinnipiac that reaches further than just the basketball court.
"Her presence has been felt on this campus since day one," Fabbri said, pointing out that Martin is the current president of the Fellowship of Christian Athletes (FCA). The membership of the organization nearly doubled during her tenure as president. Martin, a Film, Video, Interactive Media major, also won a "Quinnie" award for a short documentary she made last year, from the Quinnipiac Film Society.
"She is fun, she cares about people," Fabbri said. "It's just awesome to be around her. She's just a person that's going to do the right thing and work absolutely the hardest for it."
Martin has two conference titles, two NCAA Tournament appearances and 132 games played, but according to Fabbri, it is Martin's personality and character that has solidified her legacy at Quinnipiac on and off the court.
"Her imprint is all over this program," Fabbri said.
When I started my freshman year, I wasn't sure what to expect....

Throughout all my years playing ice hockey, I have never cried on...

When you're an athlete, your sport is your life. You eat, sleep...
DISCLAIMER: The following audio clip contains explicit language. Cornell coach Mike...

Quinnipiac University's athletic director, Jack McDonald, emphatically denied today having any...

By Brian Farrell, QBSN Staff Writer  With a little less than 200...