Volleyball defeats Manhattan College, maintains winning streak
Updated: September 28, 2016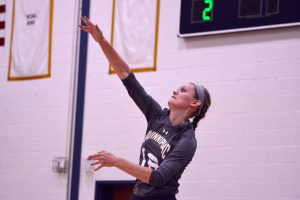 Courtesy: Quinnipiac University Athletics
The Quinnipiac women's volleyball team remained undefeated in the MAAC (5-0), defeating Manhattan College three sets to none. This is the first time in program history the volleyball team has won its first five games in MAAC play.
The Bobcats (5-0) have also won their last six games, breaking their previous Division 1 winning streak record, which was five.
"To come in this season after the last two seasons, because I'm a junior, you never know what you're going to walk into, and this is just awesome. I can't believe that this is where we're at right now," middle hitter Elizabeth Kloos said. Kloos, who had twelve kills and two blocks, played one of the many significant roles in this huge win for the team.
Defensively, the Bobcats were dominant.
"Defense was phenomenal today," outside hitter Jen Coffey said. "Everyone really stepped up in the game, was where they needed to be when they needed to be, and that really helped us with the win today."
Coffey, who also had twelve kills and two blocks, started an eleven unanswered point streak in the third set, which resulted a major turning point in the match, especially since the Bobcats were down 3-0.
"This team has been down with worse deficits throughout this year. I'm not worried about it," Head Coach Kris Czaplinski said. "They know that they have to get it in gear once they score a couple of points. We don't like consecutive points being scored by the other teams, so they understand that they have to get it in gear when that happens, and they've been doing that all year."      
Czaplinski hasn't let this year's success and the ongoing winning streak distract him from the task at hand.
"I don't think it's really going to hit me until after the season. We've got to just get them ready for Canisius and Niagara next weekend," Czaplinski said.
The Bobcats are currently 4-1 at home and have five more games to play in their current seven game home stand.
"This is really important for us to gain momentum going into the rest of the season," Jen Coffey said. "Home games are always the most fun, so this is where we really pick up momentum, and really kick the season off with a good start."
The Bobcats sit in first place in the MAAC with five home conference games to come, with their next match against Canisius on Oct. 1.
When I started my freshman year, I wasn't sure what to expect....

Throughout all my years playing ice hockey, I have never cried on...

When you're an athlete, your sport is your life. You eat, sleep...
DISCLAIMER: The following audio clip contains explicit language. Cornell coach Mike...

Quinnipiac University's athletic director, Jack McDonald, emphatically denied today having any...

By Brian Farrell, QBSN Staff Writer  With a little less than 200...