Mid Major Maximum
The teams in what many know as the "Power Five" conferences such as the Big East, Big Ten, Big 12, Pacific-12, and Southeast Conference often dominate the college basketball headlines. It can, at times, be difficult for other programs to gain national recognition that it may deserve. Many mid-major basketball programs, no matter how successful they may be at the mid-major level, simply cannot emerge from the shadows these Power Five schools. Mid-major basketball programs across the country still have great rivalries and are filling the stands with fans, regardless of placement in conference standings or polls.
The Quinnipiac women's basketball team has been one of those mid-major programs on the rise ever since head coach Tricia Fabbri came to Hamden, but more specifically over the past several seasons. Now in her 22nd season as the head coach of Quinnipiac, Fabbri has tallied 370 wins and this season marks the sixth straight 20-win season for Fabbri's Bobcats. With Fabbri's guidance as the team's leader, Quinnipiac has become one of the premier mid-major basketball programs in not only the northeast, but the entire country.
Fabbri has been at Quinnipiac for a long time, but it did not take long before she knew that she had something special here.
"When we were having success, but not the success relative to what we've been able to really accomplish the last five or six years is when we were looking at blueprints to the arena, I knew this was special," Fabbri said. "In (former Athletic Director) Jack McDonald's office, he was laying out the building and figuring out the offices and the arena and the discussions. I just said 'this is going to take on a whole new level, this is going to a completely different dimension.'"
Success as an athletic program starts at the top and makes its way down. The school administrators, in large part the athletic director, are the ones who make sure an athletic program is able to succeed. At Quinnipiac, both Fabbri and her associate head coach Mountain MacGillivray agree that the support from the administration at Quinnipiac is a large reason why the team has been able to be so successful and continues to flourish as one of the best programs in the region.
"The support has always been fantastic and that is why we are what we are," MacGillivray said. "Starting with President Lahey. He cares that we are successful. He wants us to be there. He's been there at every big game we've had; he's behind the bench. I think we are undefeated when he's been in the gym. He'll make a phone call to (Fabbri) after the bigger moments and that means a lot. Obviously Greg (Amodio) our AD now is right behind us every step of the way."
As with any team, the Quinnipiac women's basketball team has a new goal each year. As the team has continued to win and get better, the bar is raised higher and higher. Fabbri knows that playing in a competitive conference with upper eschelon teams such as Marist and Iona will be a tough test year in and year out. While the Metro Atlantic Athletic Conference foes offer a chance for a rivalry or consistent quality opponents, much of the national recognition comes from playing other teams that are members of one of the big time or power conferences.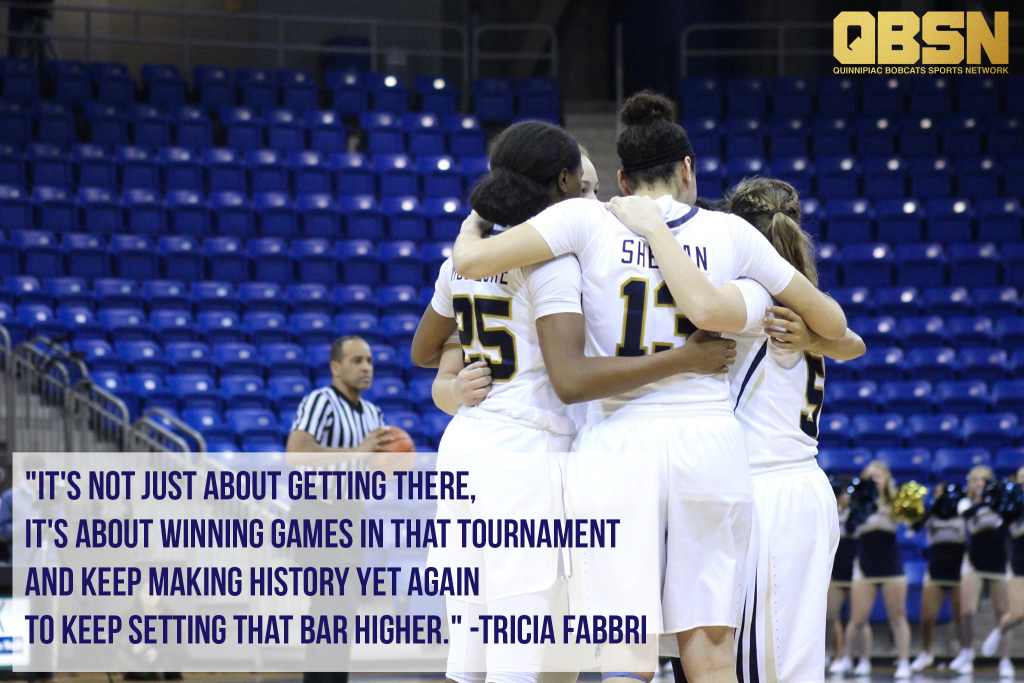 Over the past several seasons, Fabbri and her staff have made a conscious effort to increase the number of quality opponents her team will play as a part of the non-conference schedule, before the heart of MAAC play begins. This not only will allow the team to gain experience playing top tier teams in the nation, but it will also strengthen their case for a better seed if they are to make a postseason appearance in the NCAA Tournament. If a team plays well against tough non-conference opponents, and has a strong conference record they could even potentially receive an at large bid to the NCAA Tournament, something many may not consider possible for mid-major programs.
In order to be successful in the NCAA Tournament, mid-major programs know they need to have a non-conference schedule that, if tough enough, the team will get a seed in the NCAA Tournament that will give them the best chance to win a game or two.
Mid-major programs need to have a non-conference schedule tough enough to strike competitive balance and the best chance to win postseason games.
"We know that we have to play a tough enough schedule and do well enough in the non-conference that we get a decent seed," MacGillivray said. "I think our conference, overall, scheduled really well this year. I think we are sitting at 18th toughest conference out of 32 so we are right in the middle of the pack. I think if we win out and win the conference championship we are looking at a 12 or 13-seed, whereas if we did that last year we might have been a 14 or 15 and you can't win two games as a 15."
After reaching the NCAA Tournament twice in two different conferences, once in the NEC and once in the MAAC, Fabbri and her staff realizes the goal going into each season can be higher because of the success that the program has had in recent years. While getting there is nice, just reaching the dance is no longer enough for the Quinnipiac women's basketball program as a whole.
"We certainly have expressed that it's not just getting there, it's about winning games in that tournament and making history yet again and to keep setting that bar higher. That's what we are about and we make that very clear," Fabbri said.
"Our goal, our stated goal is that we want to get to the Sweet 16," MacGillivray said. "We want to win two NCAA Tournament games. We are not taking for granted that we are going to win the conference or that we are going to win the conference championship, but we know those are two things that we have to do if we want to accomplish our goal."
While both Fabbri and MacGillivray acknowledge how difficult it may be to reach a Final Four, or make significant runs in the NCAA Tournament; both also refuse to put a limit on what mid-major teams across the country may be able to achieve with much more parity among women's college basketball teams across all conferences in recent years.
"There's starting to be a little bit of that movement where you haven't seen the likes of the same teams in that Final Four," Fabbri said.
"I would point to VCU and Butler that are mid-major programs that were in the final four," MacGillivray said. "I'm not going to put a ceiling on it. The reality is on the women's side that hasn't happened yet, but that hadn't happened for a long time on the men's side either. I'm not putting a ceiling on it right now, but when we get to the Sweet 16 we will have a new goal after that."
The No. 6 Quinnipiac Bobcats (15-4-1, 6-3-1 ECAC Hockey) continue their longest...

"It's my life." After 25 years and 500 wins, it's hard...

The No. 4 Quinnipiac Bobcats (14-3-0, 6-2-0 ECAC Hockey) and Colgate Raiders...
DISCLAIMER: The following audio clip contains explicit language. Cornell coach Mike...

Quinnipiac University's athletic director, Jack McDonald, emphatically denied today having any...

By Brian Farrell, QBSN Staff Writer  With a little less than 200...