Tim Clifton signs NHL contract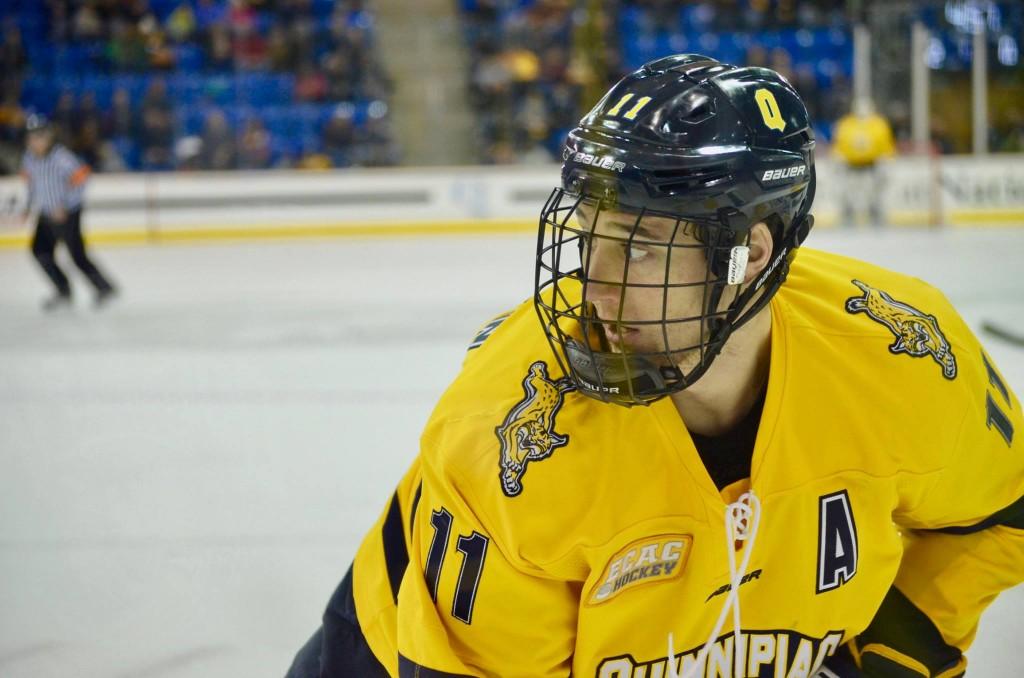 According to media reports, Quinnipiac forward Tim Clifton is heading to the National Hockey League just 24 hours after finishing his career with the Bobcats in the ECAC Hockey Semifinals. He signed a two year, two-way contract with the San Jose Sharks Saturday afternoon and will join the team this week.
"It's definitely exciting," Clifton said about signing. "It's an exciting time for my family and I."
Clifton, who seemed overwhelmed with emotion, was welcomed by chants and applause Saturday night when joining his teammates. Clifton, who spent his four years either in the class room on the ice, plans to complete his degree in mechanical engineering over the summer.
"It's definitely bitter sweet, it's kind of a weird feeling," Clifton said. "After being heartbroken last night, I have to wake up today and make a decision that will affect the rest of my life. It's absolutely great, a little nerve wracking, exciting, it's a lot of things. Today has been a rollercoaster of emotions"
Clifton's career will remain a key contributor to the success of the graduating class. The hard-hitting center will finish his career with 44 goals and 51 assists totaling 95 points in 155 games wearing the blue and gold.
"Cory Hibbeler, after our last game my freshmen year, he was our captain. After we had lost and our season was over, I remember he was sitting there and he looks over to me and says 'the hardest thing you will ever have to do is take this jersey off for the last time,'" Clifton said. "And I thought about that a lot last night. I didn't realize what he was saying, and what that meant until I was sitting in that same exact position, about to take that jersey off for the last time. It's heartbroken."
Clifton will report to the Sharks this week, but won't be soon to forget his past four years with Quinnipiac.
"It's been an absolute honor and privilege to wake up every day for four years and be a Bobcat," Clifton said surrounded by his brother, Connor, and teammates. "I owe everything I have to this university and I don't have enough gratitude to give back, but it has given me everything."
When I started my freshman year, I wasn't sure what to expect....

Throughout all my years playing ice hockey, I have never cried on...

When you're an athlete, your sport is your life. You eat, sleep...
DISCLAIMER: The following audio clip contains explicit language. Cornell coach Mike...

Quinnipiac University's athletic director, Jack McDonald, emphatically denied today having any...

By Brian Farrell, QBSN Staff Writer  With a little less than 200...