Quinnipiac women's basketball has the DNA of a dynasty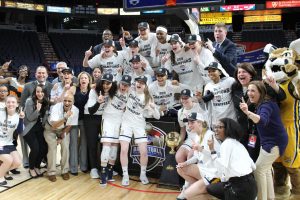 Back-to-back MAAC titles. Three in the past four seasons. A magical Sweet 16 run. An undefeated conference schedule.
It's time to officially crown the Quinnipiac women's basketball team with the dynasty label.
Tricia Fabbri's trophy case is getting awfully crowded after taking home another MAAC Tournament championship on Monday afternoon with a 67-58 win over second-seeded Marist. The victory puts a bow on a 22-game winning streak for the Bobcats, who plowed their way through the MAAC to get back to the NCAA Tournament for the second consecutive season. Marist, who Quinnipiac beat all three times by single digits, was the only conference opponent who stood a chance against a Bobcats team that has had a chokehold on the MAAC since conference play began.
Realistically, the Bobcats' grip on the conference has been tightening since their first MAAC championship in 2015. The team took a step back in 2016 when they were upset by Iona in the conference finals, but the disappointment proved to be a minor hiccup in an otherwise historic string of success that has to be viewed as dynasty-worthy, even if Fabbri herself isn't ready to discuss it.
"Gosh, that's strong," Fabbri said when the words 'dynasty' and 'Quinnipiac' were brought up in the same breath. "I'm excited that we were able to do something we haven't done before in back-to-back (years). We've been really good in the odd years, so now in '18 we were able to break through in an even year."
We've heard about the San Francisco Giants and their case as a baseball dynasty due to their magical 'even year effect.' When the Giants were coming up short in their odd years, they were missing the postseason entirely. The Bobcats were missing another title by the skin of their teeth when they weren't hoisting another trophy. Three titles in four seasons has to be considered a dynasty, at least within their own conference.
Whether the Bobcats welcome the dynasty stigma or not, their consistent winning ways are easy to recognize. Senior point guard Carly Fabbri has watched the empire rise from the ground up since she arrived in 2014, and has watched winning become an enjoyable habit under the watchful eye of her mother and head coach.
"It's been a lot of fun," Fabbri said of her four-year run that will be coming to an end after this season. "Winning is fun, and that's what we do a lot here at Quinnipiac."
In that case, Fabbri and the Bobcats have been having a blast in Hamden for the past four seasons. They can brush off the impact of their current regime all they want. For those who have witnessed their run of dominance know better. This team has the characteristics of a dynasty that will be incredibly difficult to replicate.
The No. 6 Quinnipiac Bobcats (15-4-1, 6-3-1 ECAC Hockey) continue their longest...

"It's my life." After 25 years and 500 wins, it's hard...

The No. 4 Quinnipiac Bobcats (14-3-0, 6-2-0 ECAC Hockey) and Colgate Raiders...
DISCLAIMER: The following audio clip contains explicit language. Cornell coach Mike...

Quinnipiac University's athletic director, Jack McDonald, emphatically denied today having any...

By Brian Farrell, QBSN Staff Writer  With a little less than 200...