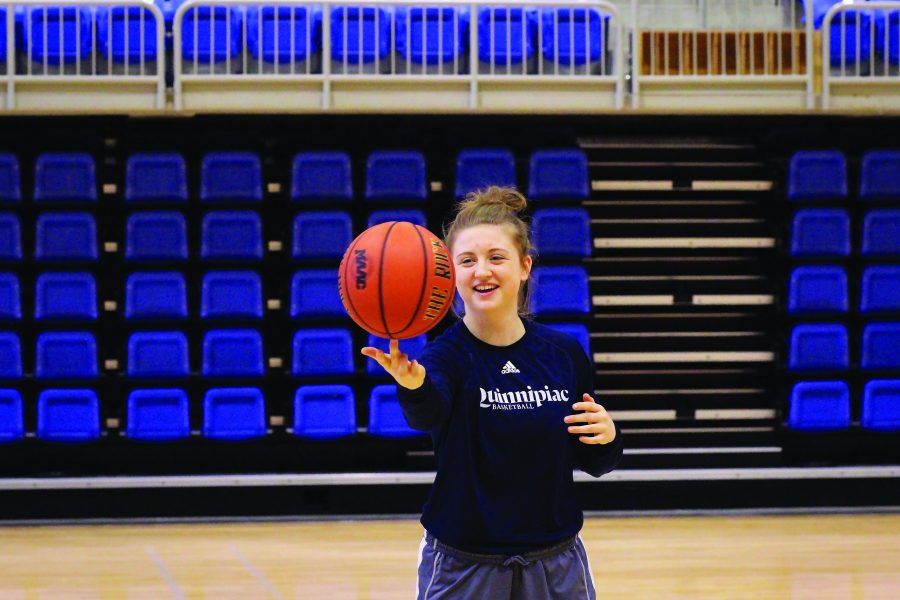 Some of the most progressive strides you make in life is when nobody's looking. If you are an athlete or have ever spoken to one, you know self-motivation is one of the many keys to success. In the summer, student athletes choose to either stay on campus or leave and train elsewhere. Some choose to workout with trainers, while others decide to do it on their own. Grace Manthey, a senior member of the Acrobatics & Tumbling team at Quinnipiac, enjoys doing a combination of both.
"Coaches back home will be there and it's great because they know how the scoring system works, but I also value the time I have on my own," Manthey said.
During the school year, Manthey resides in Hamden, Connecticut. But in the summer, she takes her talents back home to Anchorage, Alaska.
"I train at the same gym I've trained at since I was in sixth or seventh grade," she said. "You feel very comfortable tumbling in a place that you've been going to for so long."
Part of her success is attributed to her enjoyment in coaching the youth, as well as reminiscing with her former team. "The cool thing is that I get to coach the tumbling classes with the younger kids. I'll sometimes even work out with the level 5 Worlds team in which I will tumble and condition with them."
She also noted that working during the day also comes with a reward. "Either before or after I'm done working I can train for a little bit, which is nice because they let me use the facility for free."
Although she values her alone time, Manthey is expected to complete tasks required by her coaches. "Our strength and conditioning coach gives us cards and an excel sheet that gives what we need to do. It's much harder to train in the gym at home because when I need a certain station to workout at, it may not always be open."
Heading into her senior year, Grace has the experience to know what needs to be done. "This sport is so unique because if you're not tumbling once a week, you won't improve." Expect Manthey to be in full form this year, as the Acrobatics & Tumbling team prepares for their upcoming season.
Like Grace, there are hundreds of athletes at Quinnipiac who work extremely hard in the summer to come back more improved than ever. Basketball star Edel Thornton isn't just a pivotal player for the Bobcats, but she makes a huge impact at home.
"When I got home the first thing I did was get back to working with the [Ireland] national team," Thornton said.
Thornton has been training with the national team for a while, but when it comes to a halt around mid-June, she doesn't stop there. "After training with the national team finished, I started working out on my own with Jeff Gomez, a coach that [Quinnipiac strength and conditioning coach Brijesh Patel] set up with me."
When asked if she had any specific training routines, Edel proved that she was devoting so much of her time in the summer to improve her game. "I went Mondays and Wednesdays in the afternoon for lifting and conditioning, and then I would work on basketball right after. Tuesdays, Thursdays and Fridays, I would go for a 7 a.m. lift and conditioning, then later on in the day I would go to a different gym to work on my basketball game."
Thornton knows the expectations are extremely high from a season where the Bobcats made the deepest NCAA tournament run in program history. "Last year was an amazing experience and we all want to do it again," she said. "This summer I was more motivated than ever trying improve my game to help get back to where we were last year." Edel continues to attribute her success to her training in the summer and hopes to help the women's basketball team at another chance to win a national championship this season.