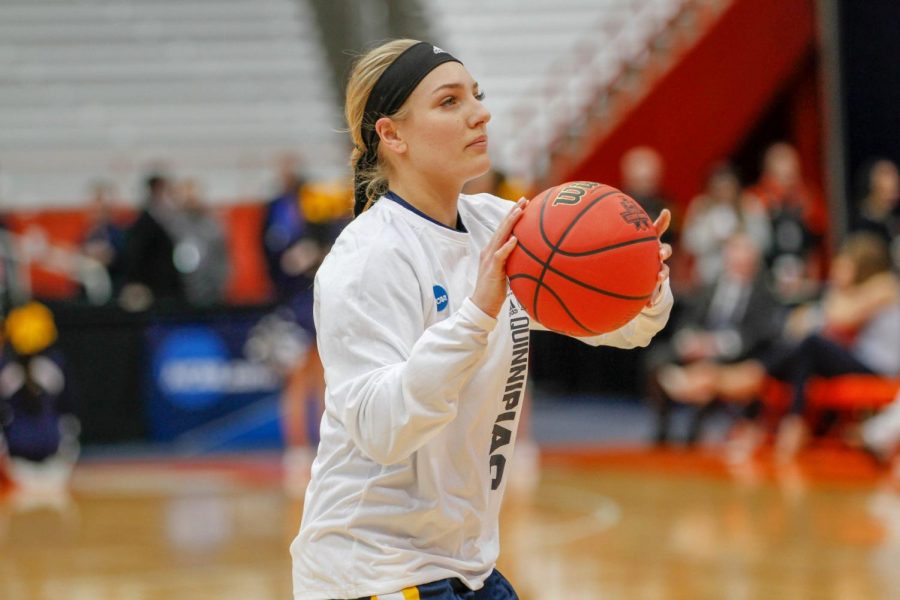 Most coaches say that the first win of the season is the hardest to get. After two tough losses to start the 2019-2020 campaign, the Quinnipiac women's basketball team grabbed that elusive first win on Saturday against a gutsy Bucknell squad.
For a team that has won 25 or more games in six of the last seven seasons, that first win still feels sweet.
"This was a statement game for us," Tricia Fabbri said. "We were two possessions short in the last two games and today we were not to be denied."
Quinnipiac led for all but 1:10 in its 76-69 win, pushing the tempo early and creating chance after chance in the paint. The Bobcats only scored 22 points in the paint, but drew a ton of fouls while driving. Their 22 free throws on Saturday were by far the most the Bobcats have accrued this season.
Senior Paige Warfel led the way with her second double-double of the season, finishing with 17 points and 11 boards. Warfel was all over the court in this one, as she not only was the center of the offense, but was tasked with guarding Ellie Mack, Bucknell's leading scorer.
Mack finished as the leading scorer on the court with a career-high 33 points, but it was the final result that mattered most to Warfel and Quinnipiac.
"We really needed this win," Warfel said. "[Bucknell] really put it on us last year so we wanted to get that win for ourselves."
Bucknell secured a 75-58 victory against Quinnipiac last November.
A lot has changed for the Bobcats this season, as it is almost a new beginning for a program that graduated a star-studded senior class last season.
The same can be said for junior Chiara Bacchini, as she made her long-awaited return to the court on Saturday. Bacchini played in just nine games last season before suffering an injury. After a long 11-month recovery, she was more than ready to return to game action.
"I've been waiting for this moment for a long time," Bacchini said. "I can't even explain how I felt getting back out there. It was fantastic."
Bacchini played just seven minutes, but contributed with her limited time on the court. She hit a three in the second quarter to give the Bobcats 33 points, ironically the same number she wears. She also created a turnover and dished out an assist.
Fabbri stated after the game that her squad was a "talented, yet untested team" in terms of closing out games.
Though Quinnipiac never let its lead slip under four in the fourth, the Bobcats shot just 3-11 from the field in the final frame. If QU wants to compete for a fourth straight MAAC title, those numbers will undoubtedly have to improve.
Quinnipiac will have a huge test next Sunday, as they travel to College Park to take on the University of Maryland, currently ranked eighth in the AP Top 25 poll.