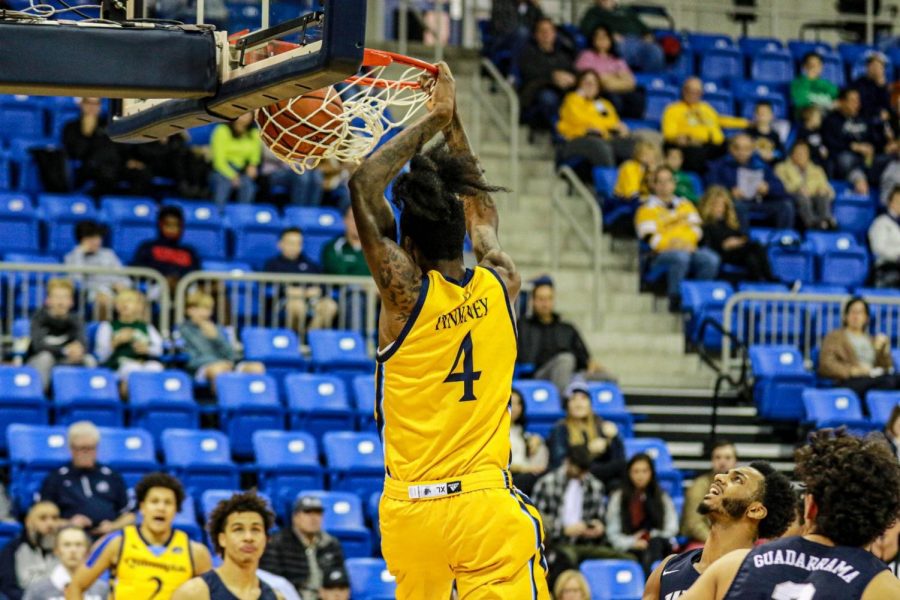 Two of the top three teams in the Metro Atlantic Athletic Conference men's basketball preseason poll met on Tuesday night at the People's United Center. What should've been billed as a close matchup between two top teams turned into a lopsided affair as the Quinnipiac Bobcats defeated the Rider Broncs 80-61.
"I thought we had great intensity and great focus," junior guard Rich Kelly said. "It started this morning when we did walkthrough. Everyone was locked in and we were just consistent with that throughout the day and then it was no surprise that we started like that in the game."
Coming into the game, the Bobcats had taken 51 percent of their shots from behind the 3-point arc, good for third in the nation. The first half proved why that playing style works. 14 of their first 17 shots came from behind the arc and they finished the half shooting 53.3 percent, while heading into halftime with an 11-point lead.
"We just try to take what they give us, and we thought that when we drove they were collapsing in, and guys were making good enough plays to kick it out to open shooters, so we were happy to take them," Kelly said.
Junior forward Jacob Rigoni was on fire to start the game, shooting 5-for-5 from the 3-point line in the first half. He finished the game with seven 3-pointers, tying his career high on his way to a 21-point night.
"We've got a lot of guys that can put up points on our team and tonight I was the benefit of that, but it can be anyone on any given night," Rigoni said.
While the first half was marked by solid sharpshooting, the second half was highlighted by an energetic run by first-year center Seth Pinkney. He started with an emphatic alley-oop and-1 off an assist from Kelly, the first of three alley-oops he had in the half. On the defensive side, he made three blocks, the last of which ended an 11-4 Broncs run that had trimmed the Bobcat lead to single digits.
That block promptly led to a 3-pointer by graduate student forward Aaron Falzon, giving the Bobcats a double-digit lead they held on to the rest of the way to seal the victory.
The win gives the Bobcats their first three-game winning streak of the season, but the team doesn't seem content. While the win provided confidence, it also provided lessons to a team that found success in areas they routinely struggled with in non-conference play.
"We've got to just continue to capture the feeling that we had early in that game of being able to be connected defensively, and good things will happen," Bobcats head coach Baker Dunleavy said. "I think definitely we'll take the win. We're really excited about the win. What we've got to take with us is that feeling and that production defensively."
The Bobcats' record now sits at 7-5 overall and 2-0 in conference play. They'll continue conference play on Friday, Jan 10 against the Niagara University Purple Eagles. While a win against a tough conference opponent should increase expectations, the team knows not to get ahead of itself.
"We really believe in ourselves and where we can be at the end of the year, but it's important we stay in the moment," Rigoni said.