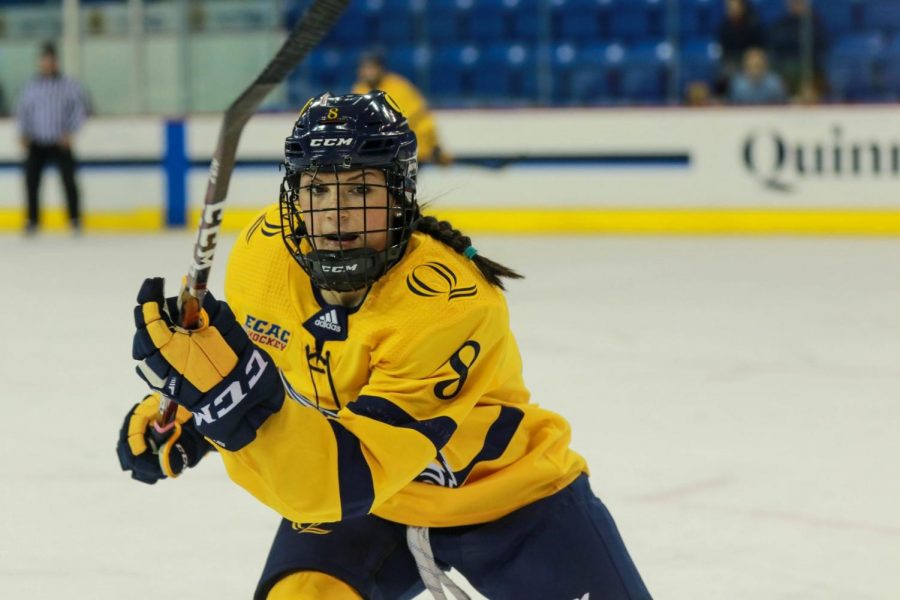 The No. 10 Quinnipiac Bobcats (4-2-0, 0-2-0 ECAC Hockey) met up with the Long Island University Sharks for the second time in 2021, leading to another favorable result for Quinnipiac. The Bobcats defeated the Sharks (0-3-0, 0-0-0 NEWHA) by a score of 5-0.
The win was just what the Bobcats needed after coming off of a two-game losing streak to No. 5 Colgate.
Quinnipiac played aggressively throughout the game, generating a strong offensive attack. Six Bobcats finished with points in the game, with goals coming from Lexie Adzija, Taylor Girard, Sadie Peart and Kendall Cooper in the Bobcats' victory.
FINAL from Hamden

The Bobcats defeat the LIU Sharks 5-0 as first-year netminder Catie Boudiette makes 14 saves in her first career start and shutout for Quinnipiac. pic.twitter.com/DUJjC9jHQo

— Quinnipiac Bobcats Sports Network (@QBSN) January 16, 2021
Adzija was the player to watch in the game leading the charge with two goals, one assist and a strong afternoon in the faceoff dot.
"Overall it was a great team game," Adzija said. "We're expecting them to come out even harder, so sticking to our game plan and things we've practiced this week will really help us succeed tomorrow."
First-year Bobcats Kendall Cooper and Catie Boudiette had memorable outings with Cooper notching her first NCAA goal, and Boudiette recording a 14-save shutout in her first career start.
"It obviously felt pretty good," Cooper said. "I didn't even expect it to go in. I just fired it to the net hoping for the best and it ended up going in, so it was pretty exciting for sure."
Head coach Cass Turner has a competitive first-year class amongst her mix, from the crease to the offensive zone, and she's excited to see how their development progresses from week to week.
"I really like how we're adapting, and I really like how our first-year class is continuing to grow each game and find their confidence," Turner said. "I think it will continue on that path."
Despite her brief 20-minute appearance in the Bobcats' first contest with the Sharks this season, Boudiette made her mark in the full game today, which provides Turner with more options between the pipes.
"We have a great group (of goaltenders)," Turner said. "The three of them challenge each other every day, and that's a rare thing to see three goaltenders that can be in that position, and you saw it the last time we played LIU. I could tell when they went out to congratulate her, how excited they were as a group."
Turner is happy with the performance of the team as of late, and wants to carry the momentum from today's win throughout the season.
"So many good things are happening," Turner said. "There's some great things for us to continue to build on, but I'm excited with how we're playing, the offense we're producing, and I can't wait to play tomorrow."
Quinnipiac will try for their third win against LIU tomorrow, with puck drop set for 2 P.M.