Simon Hinde secures first win of the season with penalty kick, Quinnipiac wins over Holy Cross 1-0
Updated: September 15, 2013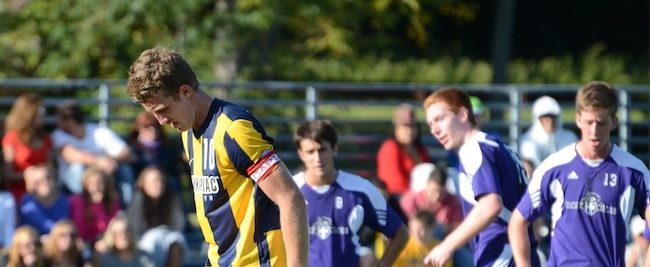 By Jenessa Gonzalez, QBSN Staff Writer
Both the Quinnipiac Bobcats and the Holy Cross Crusaders came out looking to secure the first win of the season on Sunday but it was the Bobcats who earned their first win of the season when senior Simon Hinde (Canberra, Australia) took advantage of a penalty kick late in the second half, giving Quinnipiac (1-2-2) a 1-0 win over Holy Cross (1-0).
"Simon [Hinde] is cool under pressure," head coach Eric Da Costa said. "You might as well call him 'Ice Man.' In those situations, he trains, he practices [penalty kicks] often."
Junior goalkeeper Borja Angoitia (Bilbao, Spain) totaled three saves on the day and earned his seventh shutout, moving into a tie for second place on Quinnipiac's career shutouts list. He kept the Crusaders scoreless as the Bobcats attacked each opportunity to get on the board, often coming close.
In the 24th minute, freshman James Doig (Liverpool, England) took a free kick that made its way to sophomore Stevenson Hawkey (Pennington, N.J.), who headed it just past the far post, and missed the goal by inches.
"We had some opportunities, and I thought we had some good build-ups, and some good looks at goal," Da Costa said.
The second half was a back and forth battle between the Crusaders and Bobcats. Sophomore Michael Thompson totaled four saves in the second half, holding on to the tied score.
Early on in the second half, junior Justin Ward (New Egypt, N.J.) appeared to have the first goal of the game until officials called it offsides.  A few minutes later it happened to the Crusaders when freshman Joey DeVivo shot and scored offsides.
Ward took three more shots, but could not deliver but in the 79th minute, Hinde capitalized on his penalty kick to bring the Bobcats their only goal for the game.
Although awarded a corner kick, the Crusaders failed to catch up, leaving the Bobcats with their first victory and a clean sheet as they look forward to the next game.
"It was exactly what this team needs," Hinde said of the victory. "I think it's going to be the first of many."
Quinnipiac takes on Army this Wednesday at their home field at 4 p.m.