Bobcat Bullets: Bobcats and Bulldogs to battle for playoff seeds
Updated: November 1, 2013
By Nick Dench
Friday's MAAC field hockey conference matchup between the Quinnipiac Bobcats and the Bryant Bulldogs brings playoff seeding implications. Quinnipiac comes into the game at 10-6 overall and 3-1 in the MAAC, while Bryant comes into the game at 10-5 overall, also 3-1 in the MAAC. Both teams have clinched spots in the inaugural MAAC playoffs, but a win can mean different things for both teams.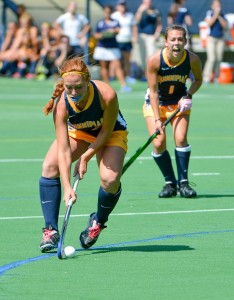 A win from Bryant moves them one step closer to becoming the No. 1 overall seed in the tournament, holding the tiebreaker over the current No. 1 seed, the Rider Broncs. The Bulldogs lost to Quinnipiac on their senior day last year, and were officially eliminated from playoff contention.
Quinnipiac comes into the game tied with Bryant in the standings, looking to clinch one of the top two seeds in next weekend's playoffs. A win Friday would give Quinnipiac the tiebreaker over Bryant, Monmouth and Robert Morris, the three teams who are immediately below the Bobcats in the standings. Both teams still have one game remaining in the season following Friday's game, but look to enter the MAAC playoffs with some momentum.
Keys for Quinnipiac
The Bobcats are honoring graduate students, Cate Colucci and Kristen Engelke, along with Jess Rusin, Jennalise Taylor, Christa Romano, Amanda Danziger and Kacie McCreesh before the game.
Emotions will play a part with some key players on the roster, so the Bobcats must put those aside and work on continuing with the offensive tear they have been on.
Look to the scoring tandem of Danielle Allan, Rusin and Engelke to add to their combined career offensive numbers to push the Bobcats offensively.
Rusin enters the game with 13 goals on the season, just two shy of breaking the single season record for the Bobcats.
The Bobcats will rely on Colucci, Danziger and Meg Conaboy to shut the door on the top scorers Bryant has produced this year.
Keys for Bryant
The Bulldogs should try to take advantage of the emotions that come with senior day like the Bobcats did last year at Bryant.
With Quinnipiac's strong, experienced defense this year, Bryant has to look to leading scorer Rosie Bird to match what Jess Rusin does on the other side of the field. Bird enters the game having already broke the single season points record that she set two years ago and is two goals from tying her single season goals record from the 2011 season with 14.
Bryant will also look to the Hancock triplets to counter Quinnipiac's team chemistry and experience.
Megan Hancock has comparable numbers to Quinnipiac's Conaboy in net, which makes for a strong goaltending matchup.
Mallory and Makayla Hancock are two of the Bulldogs' top scorers, along with Bird, who account for six goals and 12 assists, which should provide a tough matchup on the field for the Bobcats' defense.