Quinnipiac's dynamic and overlooked duo has the Bobcats on the cusp of another MAAC title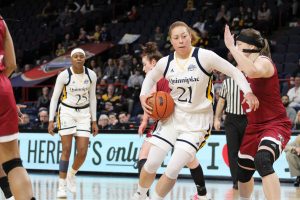 "The whole is greater than the sum of its parts."
Aristotle's quote has been worn into cliché over the years, but continues to ring loudly with truth. It is especially applicable in the arena of sport, where team play is prioritized over individual performance. A great team shadows individual success with overall dominance, making it hard to point out exactly where the source of the success comes from.
The Quinnipiac women's basketball team epitomizes this logic. The team rolled into the MAAC tournament on a 19-game winning streak, winning their conference games by an average of 19 points per game. Their chokehold on the MAAC is a result of overall dominance on both ends of the floor, as the Bobcats are tops in the conference in total offense, total defense, blocks, steals, three-point percentage…well, you get the idea.
The group effort comes at an individual sacrifice. Despite their MAAC-best 72 points per game, nobody on the Bobcats ranks in the top-10 in individual scoring. As a result, aside from Tricia Fabbri's third Coach of the Year honor, the Bobcats walked away from Friday's MAAC Postseason Awards Ceremony empty handed. The conference Player of the Year Award went to Nigara's Victoria Rampado, who led the conference in scoring.
Fabbri has been vocal in her disappointment in the Bobcats' lack of individual recognition, as both Aryn McClure and Jen Fay left Saturday's festivities with no hardware to show for their efforts in leading the class of the conference to an undefeated conference slate.
"Victoria Rampado had a great year," Fabbri said before pointing to Fay and McClure. "These two young ladies were just as deserving."
Fay and McClure haven't expressed any displeasure about the snub, electing to let their games on the court do the talking. If the coaches of the conference saw the pair's electric performance in Sunday's semifinals win over Rider, they might wish they had an opportunity for a re-vote.
Quinnipiac's dynamic duo combined for 41 points on 19-of-27 shooting to help the Bobcats coast to another easy win and advance to their fifth-straight MAAC title game. McClure finished with 24 points while Fay chipped in 17 while playing just 27 minutes, taking a rest in the second half after helping her Bobcats run away in the second quarter.
For Fay and McClure, it was just another day at the office. For Fabbri, it was another chance to show her appreciation for the best one-two punch in the MAAC.
"They've done it all year," Fabbri said. "Either scoring the ball, rebounding the ball, assisting, just doing a lot of heavy lifting for a team that has many moving parts. These two ladies have been so special all year. I could not be more pleased for the years that they've has and how well they continue to lead us."
The scoring outburst for McClure (who shot 11-for-15 from the field) marks the second time in two seasons in which she torched the Broncs when the lights were shining the brightest. In last year's MAAC final, McClure dropped a career-high 28 points to help the Bobcats cut down the nets in Albany.
"Rider always plays me tough," McClure said. "I feel like I play better against tougher competition, because I have to raise my game."
Fabbri would second that.
"She's got so many tools," Fabbri explained. "She loves to compete. She wants the ball in the biggest spots. It's fun for me to coach and just say 'hey, let's call her number.'"
After losing their leader Adily Martucci to graduation last spring, McClure and Fay have both pitched in to shoulder the load of a Bobcats team carrying enormous expectations into Monday's finals match. Once foes on the court in high school, the two have come together to put the Bobcats on the cusp of another March Madness appearance. Their years of playing on the same hardwood have only enhanced their personal chemistry.
"It's been a lot of fun all season," Fay said of the duo's on-court dynamic. "Playing with Aryn after playing against her in high school, we know each other's games really well."
The individual awards may be absent, but thanks to McClure and Fay's efforts, the true prize is once again within reach.
"They're just really happy to be playing for another championship," Fabbri said.
A second-straight MAAC title would solidify Quinnipiac as a conference dynasty, continuing the very dominance that shadows Fay and McClure's individual contributions. As long as the W's keep rolling in, they're just fine with that.
Quinnipiac University has suspended its men's lacrosse team, effective immediately. The...

The Quinnipiac volleyball team (2-10, 1-1 Metro Atlantic Athletic Conference) looks to...

Two goals from Matthew Taylor lifted the Quinnipiac men's soccer team (2-4-1,...
DISCLAIMER: The following audio clip contains explicit language. Cornell coach Mike...

Quinnipiac University's athletic director, Jack McDonald, emphatically denied today having any...

By Brian Farrell, QBSN Staff Writer  With a little less than 200...