Up, up and away: Quinnipiac hosts its first NCATA championship
By Kevin Noonan, QBSN Chairman
In its sixth year atop the York Hill Campus, the TD Bank Sports Center has seen a variety of events. But on the weekend of April 25-27, it hosted the National Collegiate Acrobatics and Tumbling Association's national championship for the first time with the host Quinnipiac Bobcats ranked as the No. 2 seed.
Despite losing in the championship meet, Quinnipiac had major schools such as Baylor and Oregon coming through its doors and those administrators were blown away by their preparations for the event, something that head coach Mary Ann Powers was proud of after the national championship.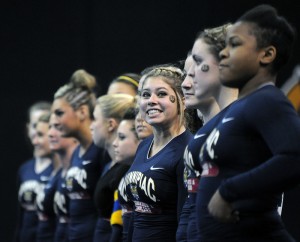 "To hear all these major universities like Baylor and Oregon say how this was an amazing experience for the kids, how does anyone match this?" Powers said. "This University does everything right, top notch."
Oregon head coach Felecia Mulkey said what made the event so great was putting the student-athletes first.
"It was all about the student-athletes," Mulkey said. "Quinnipiac University made this a special, special championship for all the student-athletes and that's really what this is about anyway. I think every student-athlete felt very special like they were at a NCAA championship, which we will be very quickly, so hat's off to Jack [McDonald] and Mary Ann and all the staff."
Planning the event was certainly not something that happened overnight, as Executive Director of the TD Bank Sports Center Eric Grgurich said. It took well over a year to plan out the three-day competition.
During the winter season at the TD Bank Sports Center, the men's and women's basketball and hockey teams have many games which provide plenty of opportunities to work out logistics of each day. The acrobatics and tumbling team only hosted two meets all season, not exactly a lot of time to plan out how to run the event.
"You really don't have all the logistics worked out," Grgurich said. "You're kind of moving on the fly so the way we've been able to pull it off pretty seamlessly is a tribute to everyone putting their hard work together."
One person both Powers and Grgurich mentioned who played a major role in planning the event was Associate Director of Academics Lyneene Richardson.
Richardson received praise from her entire team, and she said the event wouldn't have been possible without them.
"I think its been exciting; it's my first time working with an event on this large of a scale," Richardson said. "We've got an excellent team that I've worked with here at Quinnipiac and without them we couldn't have done it."
This teamwork really became crucial in the home stretch as Grgurich and many of the Athletic Department employees were traveling with the men's ice hockey team on its journey to Pittsburgh and were away from the office more than anticipated.
"It put crunch time on us when we get back because now you're looking at this right down the pike for coming up," Grgurich said. "So it put everyone into overdrive to get this done the last two weeks we've been back."
Hosting the NCATA Championship for the first time certainly did not make it any easier on this planning committee as well.
"It's just something we haven't hosted before, obviously the first time you're doing things you're working out the kinks and kind of going to the meetings to get everything squared away," Grgurich said.
Once the championship weekend got underway, it was the electricity in the building that took over as both championship meet teams, Quinnipiac and Oregon, were well represented in the stands to cheer on their respective teams.
Hundreds of students came out to cheer on their peers, something that Grgurich was happy to see.
"I think the athletes did a great job of getting their roommates and friends to come out and obviously they're very loyal and into it, so it's great to here in there," Grgurich said.
In Quinnipiac's opening meet, they defeated Azusa Pacific before falling to Oregon in the NCATA championship meet.  With Oregon's victory, they won their third straight undefeated title.
When it comes to hosting the event again in the future, Powers says she would love to get the honor again but is not so sure if that opportunity will come in the near future, if ever again with the addition of five more teams to the NCATA.
"I think this sport is about to explode," Powers said. "There was a lot of administrators that were here from a lot of places. It might be a long time before it comes back or they put it in a true neutral territory so who knows. We had it while we could."
Whether or not Quinnipiac hosts the NCATA championship again, Mulkey pointed out that she would not be opposed to coming back to Hamden again next season.
"Quinnipiac did a phenomenal job hosting this meet, so professional," Mulkey said. "The facilities are beautiful. I just told an administrator from Quinnipiac I couldn't be mad if they asked us to come back next year because they did a great job."