Quinnipiac sweeps every event, defeats Gannon in NCATA season opener
After finishing the 2013 season as the national runner-ups, the Quinnipiac acrobatics and tumbling team swept every event en route to a 279.575-260.895 victory over the Gannon Golden Knights in the NCATA season opener.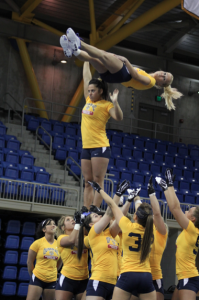 "[I'm] really pleased with the kids' hunger out there," Quinnipiac coach Mary Ann Powers said. "Leading into the week my assistant coach staff and I had our doubts but I think what this proves is they work for a really long time on some very new skills depending on how we put together the rounds of play."
It was a special day for the Golden Knights despite the loss as it was their first-ever NCATA meet in school history.
"I'm just proud of my team. It was our first meet for Gannon but also for all these kids," Gannon coach Chelsea Shaw said. "We have no veterans coming back or anything like that and our goal was just to execute what we had and they did pretty good at that. I'm just proud of them for getting through it and we've got a lot to do but it was a good start to the season."
The Bobcats took the open Compulsory Event by a score of 38.65 to 34.25, aided by two 9.95 scores on Heats 2 and 3.  The Golden Knights matched one of the 9.95s but two scores in the 7s kept them from being closer in score.
"What I loved is that they didn't let go of a round at all – I'm really proud of them," Powers said.
Although Gannon was not able to win an event, they nearly defeated Quinnipiac in the Pyramid Event.  The Golden Knights won the second heat 9.65-9.04 but narrowly fell in the event 28.24-28.10.
Powers talked after the meet how the Bobcats usually thrive in the Pyramid event.
"We've got to get our pyramid round back, that's been a Quinnipiac tradition to be national champs in many of the pyramid rounds," Powers said.
Quinnipiac had a comfortable 123.44-115.84 lead after the toss event, but really took a solid lead in the Tumbling event with a score of 56.48-49.58, led by the Aerial heat from junior Jenna Quenneville and the Open Heat from sophomore Taylor Johnson.
"I stand there at first and think give it all you got, I mean your teammates are behind you and just do it for them," Quenneville said. "They're always behind you so just give it all you got and show them what you got."
Quenneville recorded a 9.80 and Johnson a 9.85 on their respective tumbling passes which both had a starting value at the maximum score of 10.00.
The Golden Knights held strong throughout the entire meet despite being at a disadvantage having only 14 players on the team, where every player competed much of the day.
"We are limited on numbers but they're athletes man and they've trained hard," Shaw said. "I think they've done a great job with what they have."
Ending the meet was the Team Event, which Quinnipiac won 99.66-95.43 to complete the sweep of the day.
"I think we did the best that we possibly could, we always go in here trying to be the best that we can be instead of worrying about our opponents," Quenneville said. "I think that's what makes us do so well at the end of the day, so I think it was really great."