Scarred, but still standing
[dropcap]A[/dropcap] familiar scene plays out just outside of the athletic center at Quinnipiac University. The men's cross-country team, fresh off a five-minute warm-up run, stretches across the grass. In the middle of the 13 bodies, all sprawled in various positions, is sophomore Alex Doherty. A long, pink scar is visible, stretching from below his sock to a few inches above the inside of his right ankle.
This past January, Doherty had surgery to remove an extra soleus muscle in his right leg. The soleus is a strong muscle in the calf that runs from below the knee to the heel. It is used in both standing and walking. While most people have two, Doherty had three. The extra muscle had caused Doherty chronic pain throughout high school but got even worse when the mileage was upped in college. "When I got to that next level it started hurting to the point where I couldn't race," he said.
Doherty said he was told before the surgery that there was about a 15 percent chance the scar tissue would "heal funny" and prevent him from running again. Fortunately for him, "that doesn't seem to be the case," he said.
The recovery process is an ongoing one. Doherty was originally expecting to make a full recovery within six months, but nine months later he's still working his way back. He started running again this summer after not being able to use his right leg at all.
"[My right leg] was really atrophied and it shrunk from being in a cast," Doherty said.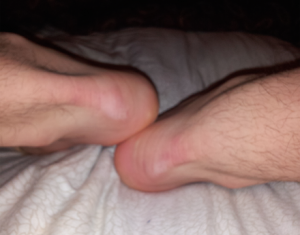 After building up strength and working on mobility in his ankle, he was able to slowly begin running again. The road back hasn't come without its bumps, though.
"I think I kind of pushed it a little too hard and I ended up hurting myself again," Doherty said. "I think I need to be a little more patient."
The support from his family and teammates has made the slow recovery easier. Doherty's father, John Doherty, was a two-time Olympic athlete who ran for Ireland in the 1988 and 1992 Olympic games.
"He gave me advice and I have all his training logs [from when he was injured] so I can see what he did when he was hurt," Doherty said. "It's like having another coach. Whenever I need a second opinion I can go to him."
Doherty's teammates have also tried to provide a support system as he works his way back.
"He told us he would need our support as much as possible, and we've been there every step of the way," teammate Dylan Fearon said. "He's working hard to get back to 100 percent, and when he gets back we'll be the best we've ever been."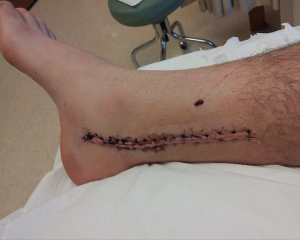 Although he's only a sophomore, Doherty brings a great deal of experience to the team. He attended Bishop Hendricken High School where he won four straight Rhode Island Cross -Country State Championships, three New England Cross-Country Championships, three Indoor State Championships, and two Outdoor State Championships.
"He knows so much about the sport and he knows what it takes to win," Fearon said.
Doherty's intense dedication to his sport can be seen in the knowledgeable and thoughtful way he speaks about cross country, and the way he conducts himself at practices.
"He drives us to do better every day, he gets on us when we're not working hard enough, he's always one of the first ones here [at practice] and one of the last ones to leave," Fearon said.
According to cross-country coach Carolyn Martin, Doherty is a redshirt this year, meaning he won't race with the team as he works to get back in shape and recover from his injury. However, both Doherty and Fearon think the team is poised for good things next fall when he returns to racing.
With his extra muscle removed, his injury healed, and the pain gone, Doherty hopes he'll be faster than he has ever been, and can help the team win.
"I'd like to think I'll be faster, and hopefully next fall I'll have a breakout season," he said.
Fearon has the same hopes for his teammate.
"He can be a lot faster than he already was, and hopefully he can help bring us [to] a MAAC Championship one day," Fearon said.