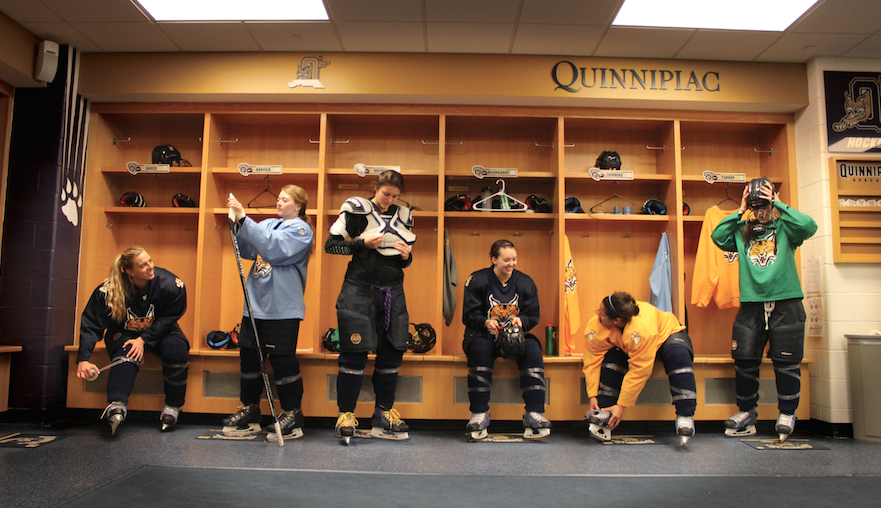 Hoisting a trophy needs a complete program. Quinnipiac women's ice hockey is one of the best teams in the nation, but it wasn't always that way. Head coach Rick Seeley has created the framework for a successful program.
"I think that people have short memories that they just perceive Quinnipiac as a really strong women's hockey program and they forget the 10 or 15 years prior," Seeley said.
The program's first year in Division I was in 2001-02 and it took the team nine years to get more than 11 wins in a season. Quinnipiac also had one of the worst seasons in program history in 2008-09 when the team finished with just three wins.
Seeley is embarking on his seventh season at the helm of the women's ice hockey program. In his second season, he was able to recruit his own players with his own coaching staff, and won 19 games.
Seeley is the only Quinnipiac women's ice hockey coach to have a winning record and he led Quinnipiac to its best finish in program history last season with a 22-6-9 record. After 13 years at the Division I level, Quinnipiac is now among the best teams in the country.
Five straight 19+ win seasons. Tens of star athletes. One of the best goalies in the nation. Quinnipiac women's ice hockey is on the cusp of becoming a perennial power.
Seeley credits the success of the program in his first few seasons at Quinnipiac to both recruiting and staff.
"We like to recruit great kids from great families and want nothing more than to see them succeed both in hockey, academics and even more so when they graduate," Seeley said.
Senior goaltender Chelsea Laden's first college visit was to Quinnipiac, where the women's ice hockey team had just finished a 22-win season and was ready to continue its hot streak with a strong freshman class.
Laden had goaltender Victoria Vigilanti to look up to. Vigilanti holds all of Quinnipiac's individual goalie career records including over 3,000 saves and 25 shutouts.
"She was one of the most competitive people I've ever met," Laden said.
Laden didn't quite believe in herself during her first few years at Quinnipiac, but she soon realized that confidence comes with experience. She needed to set the bar high for her teammates the same way her past teammates, like Vigilante did for her.
Laden is now a large part of Quinnipiac's success. She leads the nation with a 0.33 goals against average (GAA) and six shutouts through nine game starts.
Along with Laden's quick start to the season, Quinnipiac's team defense is ranked first in the country. With a team GAA of 0.40, Laden thanks defensive play for the club's success.
"I think compared to previous years, in the D-zone in general, we're a lot more confident, a lot more consistent," Laden said. "I think we take a lot more of the details to heart. I think everyone is buying into the system. It's playing a huge role in the energy in the D-zone."
Assistant coaches Cassandra Turner and Paul Nemetz-Carlson have also helped create a team to watch for this season. For Seeley, success at Quinnipiac has always been about surrounding himself with like-minded people.
"It's about finding great people who are excited about the same things that I am and then working together to make it successful," Seeley said.
Seeley says he has "the best staff in the country." Both assistant coaches have been at Quinnipiac for five or more years and have built the best teams possible each year. This staff has helped players get accustomed to the stress of being a Division I student-athlete.
Freshman forward Taylar Cianfarano faced that challenge this year. Cianfarano was originally committed to the University of Wisconsin to play for its women's ice hockey team, but Quinnipiac's academics, facilities, coaches and players convinced her to become a Bobcat.
Seeley is looking to regain the type of play that former forward Kelly Babstock gave to the Bobcats. Babstock leads in all major offensive categories in Quinnipiac history, including being the only 100-point and 200-point scorer.
Cianfarano currently leads the team in goals and points, and credits this to the constant positive feedback the coaches give the team. The drive to win within this program encourages the women to stay focused.
Seeley and the coaching staff built this club from the ground up, with the hope that Quinnipiac has what it takes to remain among the top teams in the nation.
*Stats updated as of Nov. 17