QBSN Presents: Bobcat Breakdown (2/10/15)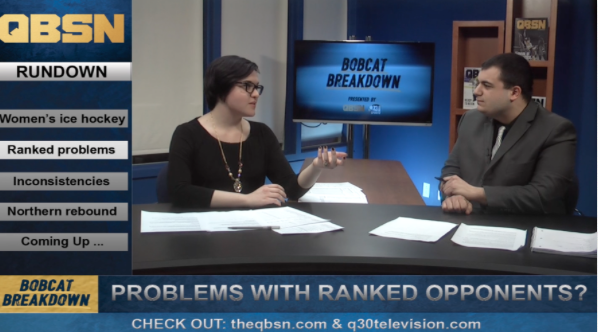 Hang on for a minute...we're trying to find some more stories you might like.
It was another exciting week of Quinnipiac athletics as all four winter teams continued its seasons, which moved some teams closer to clinching playoff spots.
Gabbi Riggi and Giovanni Mio host this week's show.
The women's ice hockey team faced Cornell and Colgate at home in their final regular season home games. The team has had trouble of late against ranked opponents, posing some inconsistencies. The panel discusses what the team has to do to get back on track.
As for the men, Rand Pecknold's squad swept the past weekend with wins on the road against Cornell and Colgate. The panel takes a look at if the Bobcats are the team to beat in the ECAC.
Finally, the women's basketball team has continued it's success against MAAC opponents, remaining undefeated. Find out who the panel believes are the most important pieces of the team and what they need to do to continue their success down the latter stage of the season.