Acrobatics and Tumbling falls to Oregon on Senior Day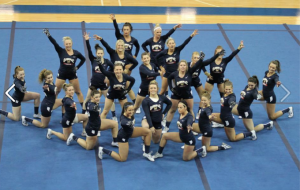 In the only weekend home meet of the season, the Quinnipiac Bobcats Acrobatics & Tumbling team fell to the University of Oregon Ducks 274.315-264.065.
After a ceremony to honor the eight seniors on the team, the Bobcats (1-2) started off strong. They lost the compulsory round by just .5 points, and the acrobatics round by .81 points, but rallied in the pyramid event and beat the Ducks (3-0) by .45 points. At the half, the Bobcats only trailed the Ducks by .86 points after the first three events.
The crowd was loud, and senior base Cara Seckinger said it gave the team energy and helped them compete.
"During the first half the crowd was really in it, so that was really helpful," Seckinger said.
However, the second half saw the Bobcats falter, and after the fourth event, the toss round, they were a full three points behind the Ducks.
"After that toss round when they went down a few points, they didn't know how to recover from that," Quinnipiac head coach Mary Ann Powers said.
The Ducks dominated the second half, and by the end of the tumble round the deficit for the Bobcats was at almost five points.
Powers attributed the shaky second half to the team being worried about what could go wrong.
"There was a little bit of fear going on for people afraid of making mistakes," Powers said. "Everybody makes mistakes, it's okay to be human, but it's that fear of making mistakes…you'll get back exactly what you wish for."
With over 1,000 fans in attendance, Powers also thinks nerves might have been an issue, particularly for the less experienced athletes.
"I don't know if 1,600 people watching them got a couple of them out of their game," Powers said. "Maybe some of my freshmen felt that."
The Bobcats will have a chance to get back on track on Tuesday, March 10, when they host Alderson Broaddus and Hawaii Pacific for a tri-meet at the TD Bank Sports Center.