Men's basketball guard Kasim Chandler granted release from Quinnipiac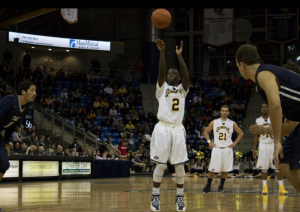 Quinnipiac sophomore point guard Kasim Chandler has been granted his release from the school, according to NYC Buckets.
Chandler began the 2014-2015 season as the starting point guard when the Westchester Community College transfer Giovanni McLean was ruled ineligible. He was averaging 24 minutes as the starter for the first half of the season, and scored double-digits four times. But after freshman Ayron Hutton logged 16 points and 8 assists in a loss to Iona on Jan. 6, Chandler was moved to the bench.
He played just 10 minutes a game for the remainder of the season, scored a mere 2.5 points per contest, and turned the ball over as many times as he assisted.
This transfer is the start of a new chapter for Chandler and some of his teammates, but for head coach Tom Moore, he is used to this feeling.
Moore is familiar with these transfers, despite never leading a team to the NCAA Tournament. Chandler is the 13th player to transfer out of the program since the beginning of the 2010-2011 season.
Chandler's release leaves Moore with just two returning guards for next season in Hutton and fellow freshman Dmitri Floras. McLean is expecting to be reinstated for the 2015-2016 season, but the backcourt will be lacking depth regardless of McLean's status.