Bobcats drop game to Niagara, 16-11
Rebecca Stone
April 11, 2015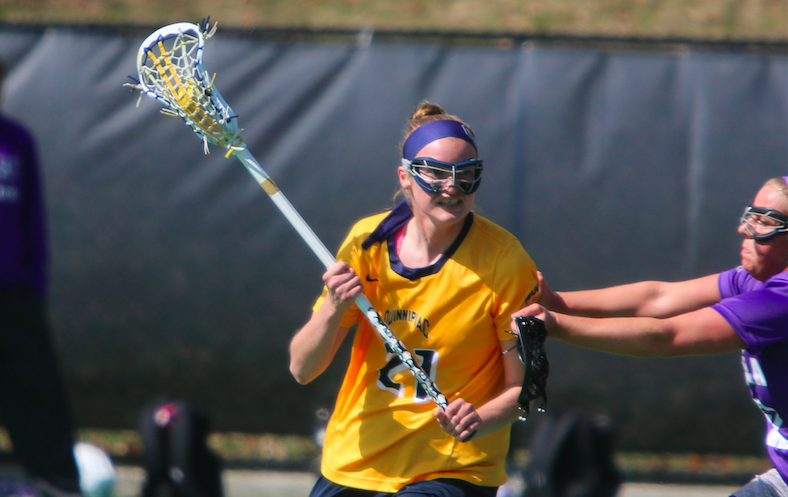 Quinnipiac women's lacrosse dropped Saturday's game, 16-11, against Niagara University after a tough matchup. The Bobcats got off to a strong start, but were unable to hold their lead.
Junior Kathleen DeVito started the game off in the draw control, giving the Bobcats momentum.
Senior attacker Kyra Ochwat scored the game's first goal five minutes in, and attacker sophomore Devin Kelly picked up the assist.
With the game picking up speed and momentum, both teams caused several turnovers resulting in some tough ground ball fights.
After a ground ball pickup, Niagara's Molly Gray proceeded to drive hard to the net toward Quinnipiac goalie, senior Samantha Tilts, and ripped a shot over her shoulder to put Niagara up on the board with its first goal.
Ochwat fired a quick shot past Niagara goalie Andrea Francisco just 12 seconds later, after a pass from senior Kelly Babstock after she won the draw control out of the air.
During a transition up the field after a save from Tilts, Niagara player Taylor Wolf knocked sophomore Carly Knowles to the ground with a hard check. Wolf received a yellow card while Knowles could not get up, and ended up needing assistance from the trainers and was carried off the field.
Quinnipiac maintained their momentum for a while, running up the score to 4-1, with another goal by Ochwat and one by Babstock.
For the rest of the half, Niagara and Quinnipiac took turns scoring goals until, and at the end of the first half, the score was 7-6 Quinnipiac.
At the beginning of the second half, head coach Danie Caro said that the Bobcats started to lose the "discipline and poise" that they had used to dominate the first half.
Caro also said that the start of the Bobcats decline started in the beginning of the second half when Niagara went on a hot streak with goals.
About ten minutes in to the second half, Niagara tied up the score 7-7, and from there they soon took the lead and held on to it tightly.
Quinnipiac scored its first goal of the second half more than halfway through and struggled to hold possession and capitalize when they had the ball.
With about five minutes left in the game, sophomore Alexandra Hlesciak gave the Bobcats a boost of energy when she won two ball controls, which led to two unassisted goals.
The Bobcats next game is senior day at home, on April 18 versus Siena.