McDonald says he was unaware of Seeley's alleged history at Clarkson before hiring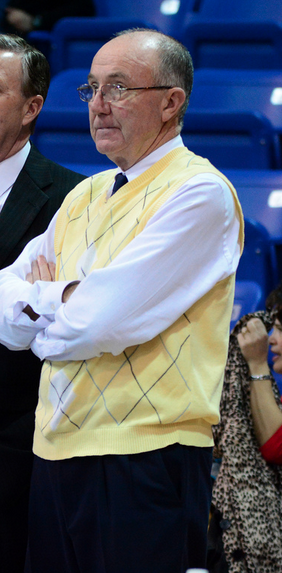 Quinnipiac University's athletic director, Jack McDonald, emphatically denied today having any knowledge of physical or verbal abuse allegations prior to Rick Seeley's hiring as Quinnipiac's women's ice hockey head coach in 2008. But McDonald did reveal that after Seeley's hiring, he was made aware of what he called "minor incidents" regarding Seeley's behavior toward players while he coached at Clarkson University.
Seeley resigned from his position April 8 amid reports that Quinnipiac was investigating him. The issues with Seeley at Quinnipiac came to light after an incident during a first-round NCAA Tournament game at Harvard, when Seeley is alleged to have grabbed a Quinnipiac player by the jersey.
Seeley was head coach of the women's ice hockey team at Clarkson from 2003-08, before he was recruited by a search firm for the job at Quinnipiac. Three of his former players from Clarkson stepped forward this week, detailing their allegations of abuse to Q30 Sports.
Asked about rumors that he knew Clarkson players had complained about Seeley during his tenure there, McDonald had a cutting reply.
"That's not true," he said. "Somebody, I don't want to say who, made a comment to me after [Seeley] was hired, not before."
McDonald, who is retiring this summer after 20 years at Quinnipiac, said he could not remember what the allegations were.
"Obviously if we knew what is being alleged, then [the hiring] just wouldn't have happened," he said.
Although he could not describe the hiring process for Seeley, saying an executive search firm had handled it for Quinnipiac, McDonald stressed that no allegations against Seeley surfaced at that time.
When asked whether Quinnipiac women's ice hockey players ever approached him with complaints of their own, McDonald said the student-athletes fill out post-season evaluations each year and there were no issues at Quinnipiac up until this year.
"It was a minor incident last year, and then obviously this year was terrible," he said.