Catalyst for change
Quinnipiac women's rugby coach Becky Carlson has spent her life breaking down boundaries and empowering women through sports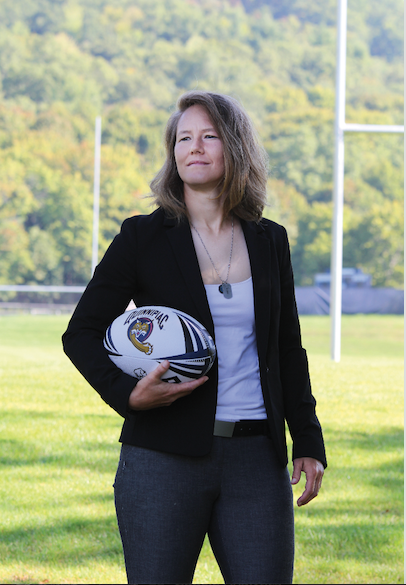 The year was 1996. Bill Clinton was president, the Olympics headed to Atlanta, and Becky Carlson was fighting for the sport she loved in her hometown of Gambrills, Maryland.
It wasn't rugby, however–the sport she coaches with a fierce vigor for Quinnipiac. It was baseball.
As a 14-year-old, Carlson tried to continue her baseball career with the teammates she had been with since Babe Ruth League and Little League. She made the junior varsity team at Arundel High School and thought she was going to continue playing, until school officials pushed her towards softball instead. They told her it was an equivalent to baseball.
"It wasn't until the adults got involved that it was a problem," Carlson said.
To her, playing sports with the boys and being on the same level as male athletes was just the way it was.
"I was raised where both of my parents always supported me, they never saw a difference," she said. "Every once and awhile I'd hear my parents say, 'Becky plays baseball,' and someone would say, 'Oh, you mean softball?' and they'd say, 'No, baseball,' and then they'd just move on," she explained. "So it just became part of our language; it wasn't anything that was special."
She had someone else on her side. Ken Dunn, the varsity coach of South River High School (in the same conference as Arundel), advocated for her to play.
"If a kid can perform, I don't think many coaches would have a problem with it," he said in a 1996 interview with The Washington Post about Carlson making the baseball team. "If they don't look at race, they shouldn't look at gender."
Carlson agrees. It's skill level, not gender, that matters.
"If you hit the ball, and you field the ball and you throw, and you run, and you catch and all of that, then it never really made a difference," she said. "I always had a really good support system. It was just what I did. It wasn't anything that was like, 'Hey, I play baseball and I'm a girl,' it was always, 'I'm going to practice. I play baseball.'"
It was this preconceived notion of equality, between not only baseball and softball but men's and women's teams as a whole, that would later be a catalyst in Carlson's push for equality in sports. As her story continued to grow and as her season with the team began, she started to receive phone calls, but not those of discouragement.
"I would get these voicemails, [one] from a mom in Pennsylvania who called me and was like, 'Just keep doing what you're doing, because my kid quit baseball because she was treated so horribly,'" she said.
And so she did.
After high school, Carlson exclusively played tennis at West Virginia University. She then transferred to Eastern Illinois University after a friend saw the school's launch of the nation's first women's rugby program. The first time she stepped on the pitch was to play at the Division I level with the Panthers while simultaneously playing on the university's tennis team.
She had never played rugby before, but that was the sport that would end up shaping her career.
"I went from hitting serves to hitting people," she said, laughing.
Carlson stayed in Charleston, Illinois for the next three years as an assistant coach with her alma mater. After that, she left for Boulder, Colorado to work with USA Rugby in their Emerging Sports Program, where she was tasked with expanding the high school program and NCAA game.
The networking she did in attempt to spread the game inspired her to co-found the website varsityrugby.org as a platform for making connections like those, between both players and coaches. It was these connections that would influence Carlson to continue her crusade in bringing rugby across the nation at both a collegiate and high school levels.
While coaching the Bobcats squad to a stellar 37-18-1 record in their first five years as a program, she was still working to bring high school rugby to Colorado.
She and others with USA Rugby lobbied to boards of directors and athletic directors to get the sport recognized on the varsity level for young women across the Centennial State. Recently their nine years of work paid off as Colorado Springs added a league sponsorship with the plan to add the sport in the fall of 2016.
"That's a very big deal. To have it be the first state in the United States is fantastic and I'm always honored to be a part of things that happen first," she said.
Being the forerunner is nothing new for Carlson either. Quinnipiac University gave her a new challenge—to start a rugby program from scratch. Teams that came before and made the jump to Division I had come from a club, where players had some form of experience and competition in the game. Carlson, when faced with this proposition, opted for a different route. Instead of searching for only international players or athletes with some exposure to the sport, she picked high school athletes who played in three sports.
"I find that the best, most trainable, most agile, and most athletic [players] are the ones that play multiple sports," she explained. "And that's who I went after when we first started building… there's no way we would have been as successful without getting those triple sport athletes."
Carlson sees her team as a starter gun, as rugby has popped up at schools like Harvard, Brown, Dartmouth and Army since Quinnipiac joined the Division I ranks. They're now transitioning from the team that worked to spread the sport on the east coast to raising it to the next level. The goal is to advance professionalism within the game, improve officiating quality, and improve the college experience for the athletes.
It is this equality for female athletes across the board that Carlson is fighting hard for, and it is what she may be known for most at Quinnipiac, aside from her on-field success. Their record, hard-hitting play, and vocal nature on and off the field has become a hallmark of the team.
"That has a lot to do with the support we've been given," Carlson said. "It has to do a lot with the student athlete empowerment and it has to do a lot with us, as a staff, understanding what our players need to be successful, what they need to be safe and what they need to expand the sport."
Part of that improved experience comes with the Title IX lawsuit in 2009. While many see it as a black eye on the Quinnipiac athletic department, Carlson considered it a learning experience. The lawsuit affects the mentality not only in athletic department across all levels, from the administration to coaching staffs, but to the male and female players themselves.
"We get so caught up in making it a men versus women thing that we're not thinking about it in terms of right and wrong," she said. "And if you understand Title IX in its absolute foundation, it is equality for men and women in education."
The equality Carlson and her team fight for goes beyond facilities, equipment and scholarships. The equitable experience extends to student media as well, as the team asked why there was a disparity in coverage between the women's sports and the main four winter sports. She pulled a small stack of newspaper clippings from on top a bookshelf in her office and laid them out into three piles on her desk to highlight it.
The first two piles clipped together contained about 10 stories in each, the last pile with just one sheet of newsprint. The first pile of articles were from the first two years as a team when there was a buzz surrounding them. The next pile was from the year the team lost in the national championship. The final pile featured a single player feature in a season when the team made it to the Final Four and lost to Penn State.
"The team was just making the point that hey, this is a problem. Let's fix it together," she said.
The call to reassess the coverage was a way to ask journalists to think through their decisions and consider the ramifications in the professional realm. Her leading point was that the driving force behind media consumption cannot solely be demand. If teams and sports are not brought into the spotlight then there is no audience demand for it.
"It's not about the controversy we had, it's about what happens after that," Carlson said. "It's improving; it's moving forward. I think this is an ongoing educational process."
It is this education across all levels and all across the country that Carlson pushes for. Be it boards of directors in Colorado, students at Quinnipiac, or rugby teams across the nation, Carlson aims to educate and empower. For her, pushing women to be strong leaders in their sport or community is her ultimate goal. Being vocal and trying to impress gender equity upon as many as she can is what she strives for.
"You never know whose wheels you're going to start turning, and who's going to step up and be brave enough because they saw you do it," she said.