A day in the life: Kelsey Rule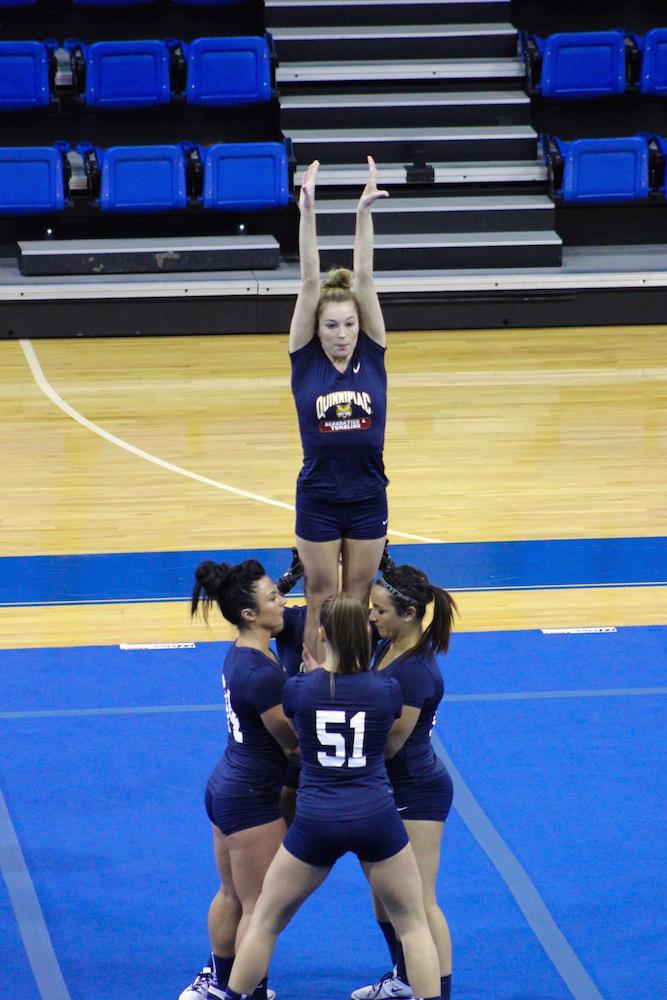 Whether it's an off day, a meet day, or a travel day, one thing remains constant for Quinnipiac junior acrobatics and tumbling member Kelsey Rule: spending time with her teammates.
"(This is) the closest knit team I've been on in the past three years," Rule said.
Not including practice, a typical day on campus for Rule and her teammates consists of relaxing and watching shows on Netflix. Currently, the team is working on finishing the show Nashville.
The day begins around 9 a.m. for Rule. At that time, she wakes up, showers and gets ready for her class. From there, instead of going to the cafeteria to eat, she goes back to her room where she enjoys cooking her own food.
"I usually make chicken and mashed potatoes, but I can make anything really," Rule said. "I don't have a meal plan so I'll just go to my room, sit at my desk and do work or study if I have a test coming up."
Using this time productively is important to Rule as she has to arrive at practice 45 minutes early to receive treatment for her ankle problems from the training staff. She continues to get treatment until practice at 3 p.m, which lasts for three hours.
That concludes a normal day for Rule, which she says is less intense than a meet day. On meet days, Rule doesn't change much, but makes sure to remain focused from the moment she wakes up.
"I do the same thing as a normal day. I wake up and make sure to eat," Rule said. "I just get focused, relax and not work myself up and think about the actual meet too much because I think that's when I get nervous."
"We took advantage of team bonding over the break because that's where we build our team chemistry and get to know each other. It's just little stuff but it really helps build up the team." – Kelsey Rule
If the meet happens to be somewhere they have to travel to, Rule and her teammates use each other's company to keep a positive mindset.
"We do all of our meals together and everybody makes sure we are focused and clear of distractions," Rule said. "We do a lot of team activities and team bonding stuff which helps
us focus not on the actual meet but on each other."
Spending time together not only helps the team prepare for a meet but helps them get through a day of competition on the road.
"It's just hard not being home because we did have the long travel and we aren't able to sleep in our beds or anything," Rule said.
Other than team bonding, ordinary daily activities and the meet itself, there are mandatory study hours Rule and her team have set aside on trips that she says are very helpful.
"(The study hours) really help a lot because I wouldn't think to do my work when we're on the road," Rule said. "I make sure to bring everything that I need with me so when we are given those study times I can really take advantage of them."
While study habits and taking advantage of the study hours are essential to her classroom success, the relationships she has with her team are just as important to the team's achievements.
For that reason, the entire team came back from this past winter break early and focused solely on practicing and bonding.
"We took advantage of team bonding over the break because that's where we build our team chemistry and get to know each other," Rule said. "It's just little stuff but it really helps build up the team."