Freshmen making an impact for the Quinnipiac men's ice hockey team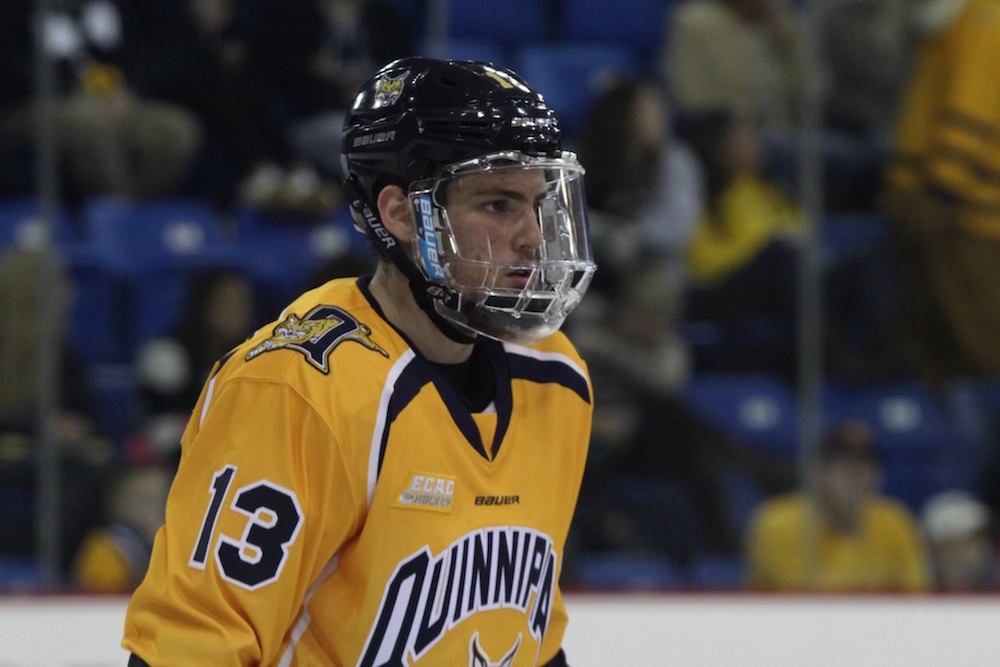 The Quinnipiac men's ice hockey team will say goodbye to the program's most successful class this May.
The graduating class has helped to earn 102 wins in their career so far, the most in NCAA Division I men's ice hockey since the 2012-13 season.
However, part of Quinnipiac's success this season has come from an unlikely source: their freshmen.
The Bobcats have relied heavily on their freshmen class as Thomas Aldworth, Scott Davidson, Chase Priskie, Craig Martin, and Luke Shiplo have all made the most of their playing time this season.
"It's a good group," head coach Rand Pecknold said. "We need everyone on board all year long."
While facing possibly one of the largest crowds in their playing careers, the freshmen made their presence known with one of their best games as a group this season.
During Quinnipiac's 4-1 win over Yale on Saturday night, the freshmen tallied four points collectively. Davidson opened up the scoring to give the Bobcats a 1-0 lead with an assist from Priskie and Shiplo sealed the deal with Quinnipiac's third goal of the night.
Priskie's helper on Davidson's goal was his 20th assist of the season, which stands as the most for any ECAC Hockey freshman defensemen this season.
The Florida native continues to be a crucial part of the Bobcat's defense when it comes to blocking shots and helping to generate offensive chances.
Priskie's assists make him the first Quinnipiac freshman defenseman since Matt Sorteberg in 2004-05 to have 20 or more assists in a season. Priskie has also tallied two goals.
Aldworth, with five goals and seven assists this season, has cooled off since exploding on the scene in his first few weeks with the Bobcats. The Texas native took home ECAC Rookie of the Week honors in October after back-to-back three-point games.
Aldworth continues to thrive whenever he is on the ice as Pecknold put Aldworth on a line with junior Tanner MacMaster and sophomore Bo Pieper. The line saw major success in a game against Maine when Aldworth scored the game-tying goal with 46 seconds left to play.
"Our freshmen class is a really close group," Shiplo said. "We all work really hard off the ice and on the ice as well. I think we all have one goal and that is to win and get better."
Even though Shiplo has only dressed for 13 games this season, he's turned out to be one of the most significant contributors to Quinnipiac's success down the stretch.
Ever since filling in for Derek Smith right before puck drop in a game against Cornell, Shiplo has been everywhere. An offensive force from the blue line, Shiplo has tallied five goals and one assist this season.
Shiplo shined this past weekend when he lead all ECAC freshmen in goals (2), goals per game (1.00), as well as plus/minus (+4) after netting two goals in the final home stand of the year.
Davidson, who's playing alongside Quinnipiac captain Soren Jonzzon and junior Tim Clifton, has helped in making the trio one of the best lines each game.
Davidson has tallied five goals and six assists while playing the second-most games of the Quinnipiac freshmen (33) and his play continues to create offensive chances for the Bobcats.