MAAC semifinal preview: Quinnipiac vs. Monmouth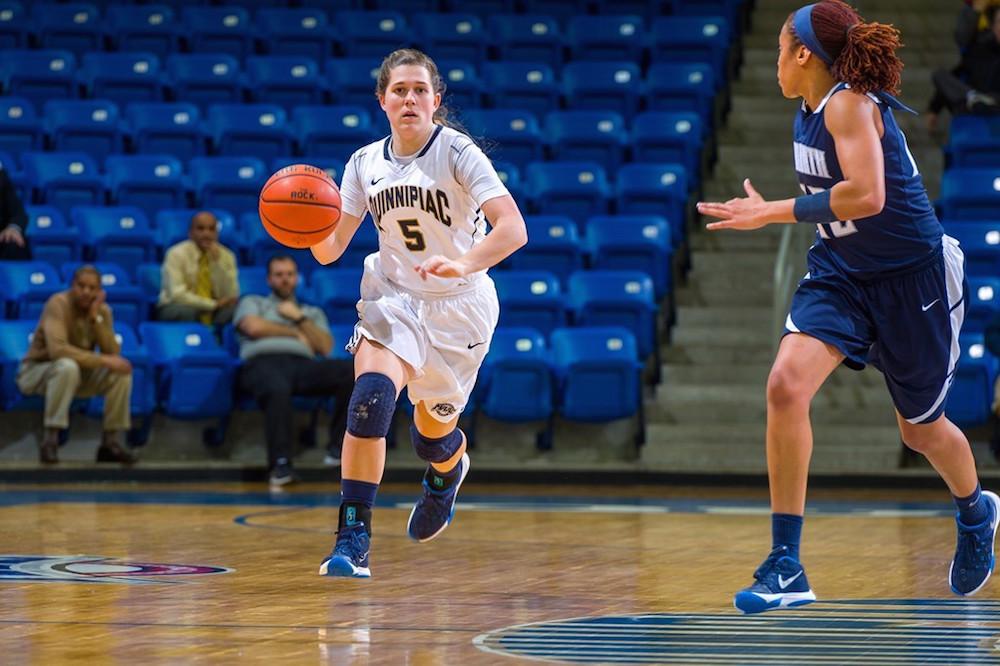 ALBANY, N.Y. – The No. 1 seed Quinnipiac women's basketball team will take on the No. 5 seed Monmouth Hawks in the semifinal game of the MAAC Tournament on Sunday.
For the third time this season, the Bobcats (23-7, 17-3 MAAC) will face the Hawks (13-16, 11-9 MAAC). However, the winner of this game will play in the MAAC finals.
These two teams split their first two games, with Monmouth winning the first matchup on Jan. 2. Quinnipiac then tuned around and torched Monmouth in their second meeting on Jan. 28, winning by 27 points.
In the first meeting the Bobcats were still trying to find their rhythm and hadn't won a conference game yet.
The team shot a mere 37 percent from the field and 25 percent from behind the arc. Those are not numbers that a No. 1 seed can shoot and win.
Quinnipiac lost that game in the final seconds by three points. It was a game that the Bobcats could have won, but the young team couldn't come away with.
Quinnipiac hasn't lost since that game.
When the Bobcats got a chance to play the Hawks again, they made sure they made a statement.
This time Quinnipiac shot 47 percent from the field and 42 percent behind the arc, exponentially better than what they shot just 26 days before.
The Bobcats had four players reach double digit points, compared to just one by the Hawks.
Quinnipiac freshman Paula Strautmane recorded a double-double and senior captain Maria Napolitano recorded 10 points.
Fast-forward to March and Quinnipiac is playing the best basketball of any team in the conference.
Quinnipiac blew out Niagara in the quarterfinals of the tournament and now have an extra day of rest.
Monmouth upset Fairfield in the quarterfinals, winning by 18. The Hawks shut down Fairfield's first team All-MAAC Kristin Scotzlein, holding her to a pedestrian three points.
Monmouth showed up ready to play but Quinnipiac is a different team than Fairfield.
Monmouth feels that they're ready to face Quinnipiac again.
"We know we can beat them," Monmouth senior Sarah Olson said. "We did it before."
Quinnipiac is a much different team than the one they faced previously this season.
Freshman standouts Aryn McClure and Paula Strautmane are dominant down low. In the two games combined, McClure totaled 10 points. Monmouth will see a very different player than they saw just two months ago.
Both teams are confident going into this game. Quinnipiac is riding an 18-game winning streak but for the tournament, only one game matters.