Quinnipiac men's basketball team falls to Rider in opening round of MAAC Tournament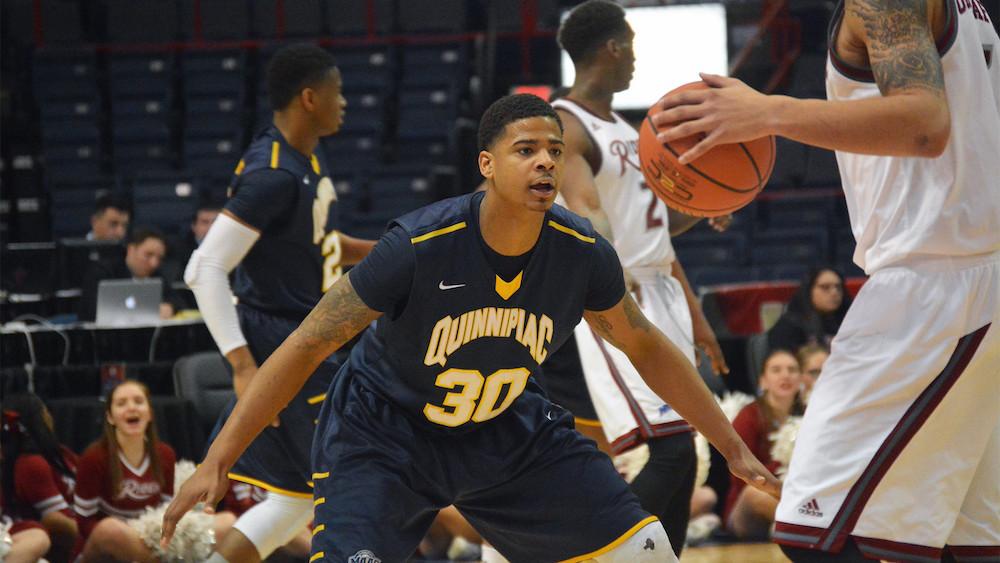 The Quinnipiac men's basketball team fell to the Rider Broncs 60-57 in Albany, New York in the first round of the MAAC Tournament on Thursday night.
The game went back and forth with the largest lead of 10 points owned by Rider with 10 minutes left in the game. By the end of the game, there were a total of 15 lead changes.
Quinnipiac is familiar with adversity and close games, as 11 of their games have resulted in less than a five-point difference.
Head coach Tom Moore thought the close games throughout the season helped prepare his young team for yet another close one.
"Our huddles were terrific all night. Guys were focused and listening," Moore said. "When Rider got it to 10 with 9:56 (left in the game) my guys were poised and calm."
Although Giovanni McLean contributed in other ways, the Bobcats needed a better performance than what they got out of their senior.
In what could be his last college game, he went 0-5 from behind the arc and didn't attempt a two-point shot.
On the other end of the court, Rider's Jimmie Taylor was on fire. Taylor went 5-6 in three-point shots and led all scorers with 18 points.
With all that being said, the Bobcats were still in the game with a few minutes left. Trailing by seven with only a minute and 23 seconds left in the season, Giovanni McLean got his first points of the game after hitting two free throws.
Quinnipiac got the ball back after a missed shot from Rider and McLean again hit two free throws to pull Quinnipiac within three with 38 seconds remaining.
Rider's Kealen Ives was then fouled and went 1-2 from the line. Quinnipiac was again down two scores with 29 seconds to play.
After a momentum-changing three-point shot from James Ford, Quinnipiac had a chance to tie the game.
A turnover by Rider gave Quinnipiac the ball in their own territory down one with 18 seconds to play.
On an inbound, Quinnipiac gave the ball right back to Rider.
Moore thought he had the right play called, but Rider played it perfectly.
"Okereafor made a great read and we were looking to have Dimitri Floras hit Donovan Smith and possibly get it back on a handoff," Moore said. "Rider did a great job clogging the lane and Okereafor made a smart play."
Quinnipiac couldn't capitalize and after a turnover of their own Rider went to the line and hit both free throws.
In order to force overtime, Quinnipiac needed a three-pointer in eight seconds. They had a chance to salvage an up-and-down season with a young team.
Quinnipiac has had problems with turnovers all year as they finished second-worst in the MAAC in turnover differential.
In a game this close, a few turnovers can make the difference. Moore wasn't pleased with Quinnipiac's 18 turnovers.
"Too many turnovers from us, starting with the first couple of trips," Moore said. "I thought we were a little sloppy with our decisions and our passing. It has been an underlying problem with us all year."
After a timeout, the Bobcats tried to draw up the perfect play.
"What we were trying to do on the last play was have either Floras or McLean try to use a ball screen at the top of the key to try and spot up our shooters," Moore said. "We tried to get some penetration in the lane and suck in a defender and kick it out. They bundled him up really well and he didn't have a chance to."
Floras, who was held scoreless in the game, tossed up a shot and missed.
Quinnipiac lost to Rider and will now have a sour taste in their mouth until the start of next season.
"Those last two plays fall on me," Moore said.