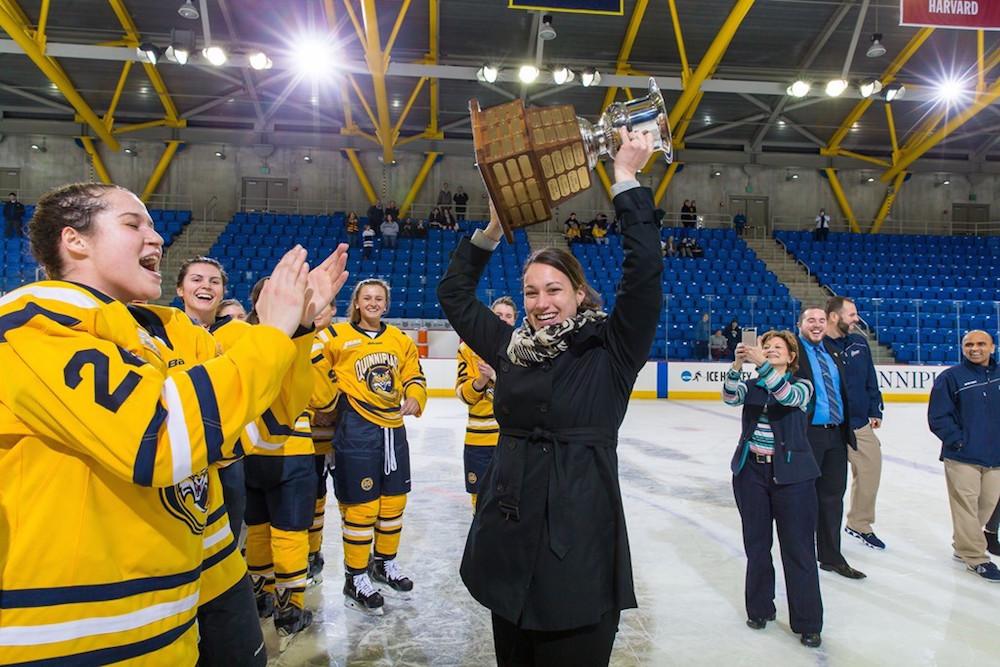 In her first year as head coach of the Quinnipiac women's ice hockey team, it wouldn't have been a surprise if Cassandra Turner's team had a difficult season.
But over the past several months, the women's ice hockey team saw quite the opposite.
This season, a first-year coach brought together a group of exceptional players to play as a unit and reach new heights for the Quinnipiac women's ice hockey program.
The potential of this team was evident from the start.
After a tough 4-3 loss at Yale on Halloween, the Bobcats were nearly unstoppable.
The next 21 opponents Quinnipiac faced couldn't find a win as the team remained unbeaten and allowed only one more blemish on the record before the loss against Clarkson on Saturday.
This team was good, and Turner's leadership was one of the most significant factors.
The offense seemed to be Turner's greatest achievement as the Bobcats set program records in assists (118), goals (188), and power-play percentage (25).
The numbers are eye-popping, but it was the way the Bobcats won games that illustrated how Turner's mentality resonated with the team.
When Quinnipiac was losing in games, they found a way to escape with at least one point by playing with resiliency.
When the Bobcats were up on the scoreboard, they found a way to put themselves out of reach for good.
Turner, instilling trust and leaning on leadership from her seniors, watched her veteran players flourish in their final season with the Bobcats.
Seniors Nicole Connery and Nicole Kosta both reached the 100-point mark this season to become the third and fourth players in program history to do so.
Kosta finished her career at Quinnipiac with 123 total points while Connery posted 102 points, and became just the third player in program history to record at least 40 goals and 40 assists in a career.
Not to be outdone offensively, sophomore Taylar "T.T." Cianfarano tied for second in program history for goals in a season as she netted 28. Cianfarano's 52 points this season were good for third most points in single-season program history.
Then there was goaltender Sydney Rossman. The junior started out strong and never showed signs of slowing down as the season progressed.
With the help of an elite defensive squad, lead by seniors Kristen Tamburg and Cydney Roesler, Rossman set program records this season for fewest goals allowed (35), lowest goals against average (.90), and most wins (30).
With all of that, her .949 save percentage was the second highest in program history and her 16 shutouts were tied for the most in program history, and also good for third most in NCAA women's ice hockey history.
For Turner, even the knowledge of setting the NCAA record for wins by a first year women's ice hockey head coach (30) won't soften the blow of the Bobcats' 1-0 loss against Clarkson Saturday afternoon.
But it should show just how special this team was and is going to be.
For Quinnipiac, they have struck gold in Turner. And I'm not just talking about her lucky gold scarf.
With seniors graduating and juniors and sophomores stepping in to fill key leadership roles on the team, it will be Turner and her staff who once again lead this team come next season, a season that should see more records broken, more titles added to the office, and more fans in the seats.
Turner is special and it's only the beginning for her and this program.