The road to the top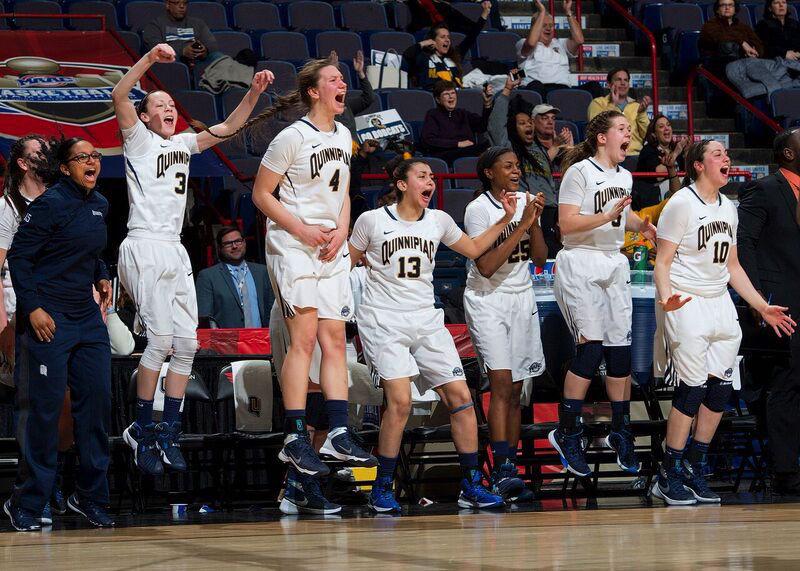 ALBANY, N.Y. – The top-seeded Quinnipiac women's basketball team have one game standing between them and the MAAC final.
The team they meet in the finals won't be determined until Sunday night, but they only have one more game to play on their side of the bracket.
Quinnipiac started 0-3 in conference play and had a lot of questions surrounding the team at the beginning of the season.
It wasn't until Jan. 6 that the Bobcats got their first MAAC victory. Quinnipiac defeated Rider in a game they couldn't afford to lose.
Quinnipiac then played Canisius at home as they looked to gain some momentum.
Freshman Aryn McClure and Paula Strautmane both notched 10 points in that game, but the Bobcats still weren't anything close to the team they are now.
It wasn't until Quinnipiac traveled to Canisius on Jan. 17 that they realized what they had in this freshman class. McClure and Strautmane combined for 35 points and the Bobcats put up 80 as a team.
It was the first time Quinnipiac reached 80 or more points but they still hadn't faced a real force in the MAAC yet.
It wasn't until Siena College came to Lender Court that the Bobcats claimed their place as a major team in the conference.
Quinnipiac put up 94 points against a Siena team that, at the time, was 8-1 in conference play. The Bobcats then turned around and put up 85 points against Monmouth at home.
Quinnipiac figured out how to utilize their freshmen down low and stopped shooting so many threes.
In order to be the best team, you're going to have to beat the best teams.
Quinnipiac had to defeat Iona in order to have a shot at first place in the MAAC.
In their first matchup against Iona this season on Feb. 12, Quinnipiac trailed entering the fourth quarter but like they have been doing all year, remained resilient.
Thanks to back-to-back three-pointers by Carly Fabbri the Bobcats were able to overcome a deficit and defeat Iona.
That game was the turning point in the season. To come from behind against the best team in the conference was huge, especially for this young team.
Quinnipiac gained confidence and experience rallying to win a tough game against a top opponent.
The rest of the season they rolled past their opponents, including defeating Marist by five and Iona by 16 in the last game of the season.
Where are the Bobcats now? They currently have an 18-game winning streak with no end in sight.
A team that had questions about talent and leadership going into the season now has questions about how far this team can go.
How great can this team be going forward considering only one player in their starting lineup is a senior and they have no seniors in the second rotation?
Will they earn another NCAA Tournament birth or will they be upset?