Women's basketball team rolls by Niagara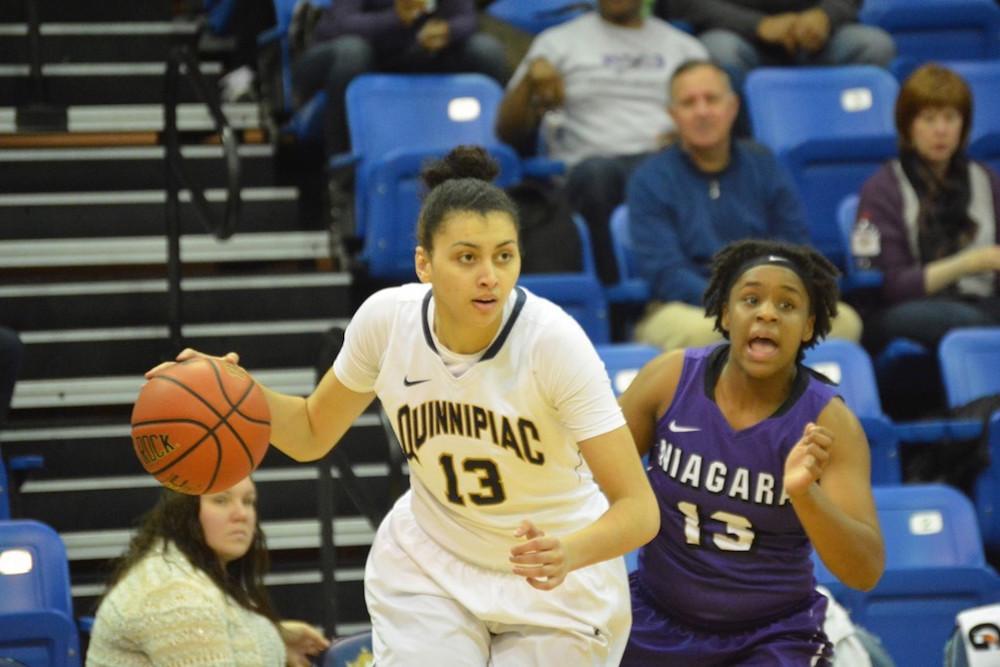 The Quinnipiac women's basketball team defeated the Niagara Hawks 74-51 on Mar. 4 in Albany, New York, for the first game of the MAAC Tournament. The Bobcats await the winner of the Fairfield-Monmouth game to determine their Sunday opponent.
The Bobcats started the game hot with a Paula Strautmane layup followed by steals and layups from senior Maria Napolitano and sophomore Carly Fabbri.
After only a few minutes of play, Quinnipiac was up 8-0. Their top-notch defense was able to hold the Hawks to a mere four points in the first quarter.
Head coach Tricia Fabbri was happy with the way her team started the game.
"We were ready to play and it was great to see us dialed in," Fabbri said. "It was great to see what they did and to see the scouting come to life. We couldn't have asked for a better start."
At the half the Bobcats were up 33-21 and sophomore Sarah Shewan already had 14 points.
Uncharacteristically, the Bobcats shot only four three-point shots in the first half.
Fabbri thought Niagara did a great job of containing Quinnipiac's outside presence.
"I really credit Niagara. Their matchup based zone defense did a great job taking away the three ball. We didn't get many looks."
However, Niagara didn't show any signs of quitting.
With 2:34 left in the third quarter, Niagara trailed by six points. They shot 50 percent from behind the arc and that gave Quinnipiac some trouble.
Tough games are what the tournament is about and Fabbri thought it was healthy for this team to have to experience it.
"Nothing good is ever easy," Fabbri said. "It was good to be in that position for us. Tight games are what you expect in March."
That's when Quinnipiac kicked on the jets. Sparked by a Shewan two-pointer and free throw, the Bobcats gained a comfortable lead and never looked back.
Quinnipiac ended the quarter up 12 points and finished the game with a 23-point margin of victory.
With one of the best defenses in the MAAC and possible Defensive Player of the Year in Napolitano, Quinnipiac was able to force 20 turnovers, with 13 of them coming in the first half.
The dangerous thing about this Quinnipiac team is that on any given day, any player can lead the team in points. Today that was Shewan, who led all scorers with 24 points and finished with seven rebounds.
Freshman and MAAC All-Rookie Strautmane had another great game, finishing with 18 points.
Although those were the top scorers, 10 Bobcats had points and everyone contributed to the victory.
The Bobcats will look to ride this 18-game winning streak all the way to the MAAC final.