Women's ice hockey team defeats Clarkson 1-0 to claim ECAC title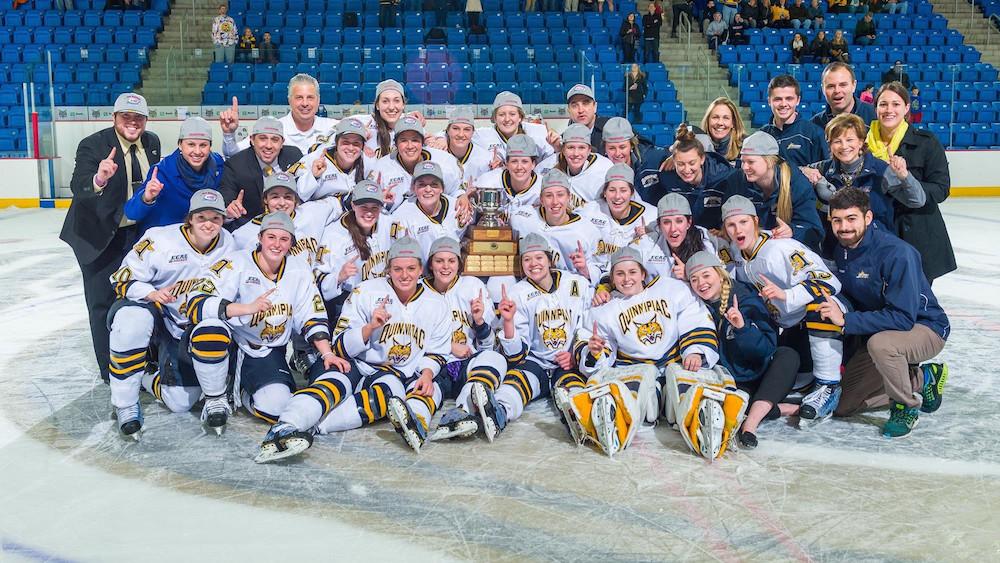 The Quinnipiac women's ice hockey team earned their first ever ECAC Championship title with a 1-0 win over Clarkson on a lone goal from Nicole Brown.
The ECAC Tournament's Most Outstanding Player Sydney Rossman led the way with her 16th shutout of the season and her most pivotal one, without question.
"It's Quinnipiac-Clarkson. It's amazing to play a game where there's not many shots," head coach Cassandra Turner said. "Teams are battling that hard, its just so much fun to watch."
Quinnipiac outshot Clarkson 17-16 in a back and forth bout where Quinnipiac ended up victorious because of excellent goaltending and just a little more hustle.
A barrage of shots from Clarkson led to outstanding saves by Rossman. But when Rossman was out of the net after saving two shots, Taryn Baumgardt was there to make an amazing defensive play and cleared the puck away from the crease.
"We did some things well," Clarkson head coach Matt Desrosiers said. "But there are other areas we need to look at and clean up."
Through the early stages of the game, Clarkson looked dominant. Quinnipiac did not register a shot on goal until a little over 11 minutes into the game.
While Clarkson looked to be outplaying Quinnipiac, the Bobcats would be the first to strike with help from the Nicole line.
Nicole Connery ripped a low shot that bounced off the boards and found Nicole Brown who tucked the puck into the net for her 8th goal of the season and 20th of her career.
"I saw the puck come off the boards, and I thought, 'I have about .1 seconds to put it in the net before I get clobbered,'"Brown said.
The best chance of the second period came from Clarkson's Amanda Titus. Titus found the puck on her backhand in the front of the net with 22 seconds remaining, but the left post denied her sixth goal of the season.
"I joked with our team between the second and third, I was like, 'can I put my equipment on?'" Turner said. "'I want to get out there in this game.'"
With 10 minutes left in the game, Clarkson assistant captain Cayley Mercer broke away from the Quinnipiac defense, coming in alone on Rossman.
Mercer moved to her backhand and then back to her forehand only to be met by the outstretched right pad of Rossman.
"I knew it was [Mercer], and I knew she was going to deke, because I feel like she does that more often," Rossman said. "I tried to stay composed and think of it like any other game."
At the end of the game, the Bobcats led in shots 17-16, that one extra shot proving to be crucial for the Bobcats.
Both teams are going to make the NCAA Tournament, and there is a good chance they face each other in the first round.
Quinnipiac versus Clarkson is starting to become a rivalry.
"You gotta refocus quick," Desrosiers said. "Because we're most likely coming back to Hamden."
ECAC 2016 All-Tournament team is as follows:
Forward: Clarkson's Shannon MacAuley
Forward: Quinnipiac's Nicole Brown
Forward: Quinnipiac's Nicole Connery
Defense: Quinnipiac's Emma Greco
Defense: Clarkson's Erin Ambrose
Goalie: Quinnipiac's Sydney Rossman
Most Outstanding Player: Quinnipiac's Sydney Rossman