The Specialist
Hang on for a minute...we're trying to find some more stories you might like.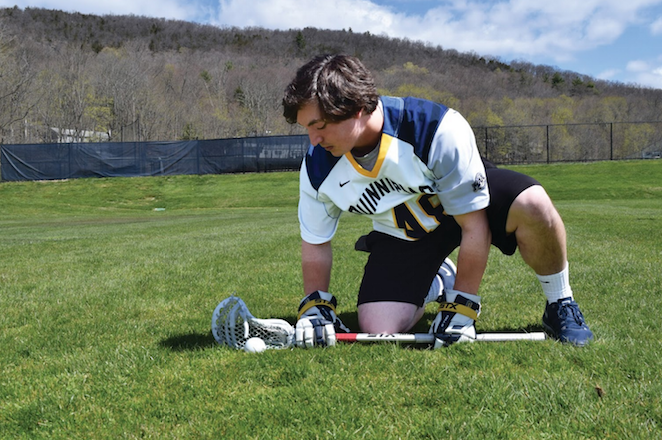 One of the most important aspects of a lacrosse contest is the face-off, and sophomore Will Vitelli is tailored for that job.
Vitelli serves as the Quinnipiac men's lacrosse team's faceoff specialist, a position that requires sharp reaction time and intense specified training.
For a player whose job is to take a faceoff and then jump off of the field, Vitelli's journey has been nothing short of interesting.
Vitelli's lacrosse career began at a young age. A Milford, Connecticut native, he first participated in the game during the inaugural season of his town's youth lacrosse league.
"I started playing around fourth or fifth grade," Vitelli said. "I just kept with it ever since. Hockey and lacrosse had always been my thing, and I stayed with lacrosse into college."
Often times, staying in tune with a sport for that long can be a difficult road.
There were a few people who inspired Vitelli along the way. He credits much of his success to them.
Individuals like his high school coach Brian Adkins always pushed Vitelli and was there to provide support as well. Then there's his friend Zach White, who used to train alongside Vitelli over the summer. Vitelli never had to search too far for a pat on the back as there was no shortage of supportive people surrounding him.
After sticking with the sport throughout his high school years, Vitelli chose Quinnipiac and made the men's lacrosse team as a walk-on.
With no clear role at first, he was open to just about any opportunity he would be given.
It was last season that Vitelli started taking faceoffs, a skill that was somewhat foreign to him.
"The coach approached me and asked me if I would do faceoffs," Vitelli said. "I was a walk-on so I didn't really have a spot on the team. So I tried taking faceoffs and I've stuck with it since."
Though he is just as much a part of the team as any other player, Vitelli's position is both unique and time-consuming.
Specific training is required to be successful in the role, thus his practice routines differ from most of his teammates'.
"They mostly worry about their offense and defense queues, slide packages and things like that," Vitelli said. "I go through my own routine. I work on hand speed, reaction time, whistle recognition and being as fast and explosive as I can. So I work on different techniques of how I exit with the faceoff, so either front, back, left or right, really whatever comes my way."
Even with a different role on the team, Vitelli's relationships with the rest of his Quinnipiac squad don't differ very much.
"It's different in the sense that I'm closer with with my counterparts Connor Devane and Luke Hoffman but other than that, I'm just as close with everyone else," Vitelli said. "When we're doing full field stuff, I'm incorporated into it because I communicate with them all of the time, trying to figure out what we need to do to get the ball. From there, we're one big family."
During his 2014-2015 campaign, Vitelli appeared in eight games for the Bobcats shadowing under Devane, who was last season's faceoff specialist.
This season however, Vitelli has appeared in every contest so far and is serving as the team's main faceoff specialist.
Vitelli made some serious waves during an April 3 game against Marist, going an impressive 19-for-19 in the face-off category.
Subsequently, Vitelli was named the MAAC Player of the Week and the StrikeKing National Player of the Week by Inside Lacrosse magazine.
"That day I knew what I had to do. I either had to go backwards to my drawside guy Adam Bellamy, or just take it myself and pass it to the nearest guy," Vitelli said. "I've been getting so much support from past coaches, past friends, everyone. Just because I had never taken a faceoff in high school until now, and going 19-for-19 against Marist is unheard of."
Having this much success in his first season as the primary "faceoff, get off" player for the Bobcats, Vitelli is pleasantly surprised at how his journey has played out.
As a walk-on, it can be difficult to find a permanent spot on any team. However, Vitelli is appreciative of how far he has come and has a desire to keep honing his skill.
"I'm very surprised. I never thought that I'd be where I am today," Vitelli said. "I'm very grateful of what I have accomplished and I want to keep improving to the best that I can."
Throughout this entire ride, Vitelli has been proud to don a Quinnipiac jersey each and every game day.
"I feel great pride coming here. Every day I wake up, I see the beautiful campus, go to class and take great pride in what we have here," Vitelli said. "I love it here, being so close to home. Some of my family members are alumni here, and I take great pride in my family being here and being around here for so long."
Through hard work, positional adjustments and a willingness to succeed, Vitelli put his team first and himself second, a move that has benefited both him and the Bobcats.
"Your spectrum can never be too broad," Vitelli said. "Try new things and see where you fit in. Even though you may not like it, you may fit in the role and it might work for your team. Don't worry about yourself, worry about your team's goals and not your personal goals."