Quinnipiac defeated by Boston University 3-0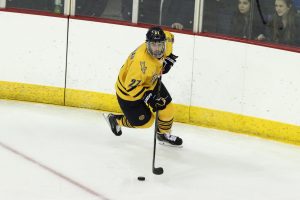 The Quinnipiac men's ice hockey skated into Boston having won its last two games, but was defeated by Boston University Terriers 3-0 on Saturday night.
Whistles and called penalties were the name of the game as 63 combined penalty minutes were allotted between the two teams. Due to the high volume of calls, Quinnipiac (3-2-1) had a total of twelve power play opportunities. The Bobcats struggled however, going 0-12 on the man advantage.
Head coach Rand Pecknold attributed this number to a solid Boston University (3-2-0 penalty kill and excellent goaltending.
"I thought our power play struggled; I thought BU's kill was really good," Pecknold said. "I thought their kids were eating pucks, they had good sticks, and they were really competitive, and I thought the goalie was excellent."
Pecknold also believed that frustration played a factor in the teams power play woes.
"We had a couple of pucks lying there and just, you know, we just couldn't get a bounce," Pecknold said. "But we struggled. We were out of sorts a little bit; I thought then we started to play a little frustrated and you can't score goals when you play frustrated."
Boston University was on the other end of those opportunities, having to kill off 12 penalties. By the end of the contest, goaltender Jake Oettinger had earned his second shutout in a row, stopping all 22 of the shots that he faced. However, Terriers head coach David Quinn credited his team's success during the game to a mixture of good goaltending and lockdown defense.
"We've really come a long way in three weeks defensively," Quinn said. "We've done a nice job protecting the net front; I mean Jake played really well tonight I'm not trying to take anything away from him but for a team that had to kill 12 penalties he didn't have to make a lot of great saves but he is also a great goalie so he makes a lot of potential great saves look easy."
Quinnipiac goalie Andrew Shortridge got the start tonight over counterpart Chris Truehl, giving up two goals during the game. The first came in the opening frame when at 6:11 in the period when Jakob Forsbacka Karlsson fed a pass to Jordan Greenway who entered the slot and dipped a back handed shot past Shortridge.
The second occurred in the second period 7:55 in when Patrick Harper fed a pass to a streaming Bobo Carpenter out in front of the net. Shortridge was unable to react in time to the pass across giving Carpenter a fairly open net for his second goal of the season. The Terriers would later score an empty net goal in the dwindling moments of the third period sealing their victory.
Even with the two goals however, Pecknold thought his young freshman goalie played well given the circumstances.
"I thought he played well, I thought he settled in. You know again, we wanted to win tonight or at least a tie; but for what I want out of the game for him he got a great experience. He's going to be a better goalie because of what happened tonight," Pecknold said. "There's things that he did well, there's things that he can work on and Jared Waimon our goalie coach has been doing a great job with him and Chris Truehl and this was a great experience for him. You know, he's going to learn a lot from tonight; he's a really good goalie."
The Bobcats have a fairly quick turnaround next week as they play the University of Massachusetts on Tuesday evening. Puck drop is scheduled for 7 p.m. in Hamden.