Quinnipiac hosts Rider on Senior Day in final game before MAAC Tournament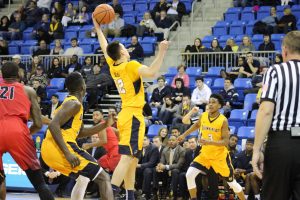 Quinnipiac has clinched the No. 8 seed in the Metro Atlantic Athletic Conference (MAAC) Tournament in Albany, New York next weekend, but the team still has one final regular season opponent to take on. Rider comes to Hamden to take on a struggling Quinnipiac team on Senior Day for the Bobcats. The Bobcats (10-19, 7-12 MAAC) have lost five in a row, while the Broncs (16-14, 9-10 MAAC) come in having won their last two matchups. Quinnipiac will honor its three seniors in Daniel Harris, Donovan Smith and Alain Chigha before the game against Rider. Rider still has something to play for in this game as the Broncs can still clinch the sixth seed with some help from other teams, but need a win of their own to have any chance at that six-seed.
Last time they played:
The last time these two teams faced off against each other was earlier in February when Rider took down Quinnipiac 112-107 in New Jersey. That game had little to no defense from either side. Rider shot 58.6 percent from the field and 68.4 percent from three, while Quinnipiac shot 48.7 percent from the field and 42.1 percent from three. Jimmie Taylor led all scorers with 37-points for the Broncs as he hit 7-of-8 shots from beyond the arc. Other Broncs' scorers included Kahlil Thomas who chipped in 21-points, Kealen Washington-Ives tallied 19-points and 12-assists and Norville Carey scored 17-points.  Chaise Daniels led Quinnipiac with 23-points while freshmen standouts Mikey Dixon and Peter Kiss had 15 and 17 points respectively. Phil Winston also gave Quinnipiac 19-points, while Andrew Robinson contributed 17-points of his own on 5-of-9 shooting the three. Neither side played strong defense, a trend that has stuck with Quinnipiac over its handful of games.
Players to watch:
Rider: Sr. Guard Jimmie Taylor
Taylor may seem like the easy option as a player to watch in this game, but the senior is playing on another level right now. Since going for a career-high 37-points the last time he played Quinnipiac, Taylor has been averaging over 26 points per game to lead his team. Averaging over 35 minutes per game, the Broncs go as Taylor goes, and to finish the regular season strong would be a huge boost for a team that has the potential to make some noise in the MAAC Tournament if Taylor keeps playing at the level he is playing at right now.
Quinnipiac: Jr. Forward Chaise Daniels
Freshmen Peter Kiss and Mikey Dixon are obvious choices as the two have won nine MAAC Rookie of the Week awards between them, including seven in a row. However, if the team wants a chance to win, Daniels needs to step up. Daniels has been the Bobcats' leading scorer in three of the team's last four games. Expect Rider to have strong guard play from Jimmie Taylor and Kealen Washington-Ives that could equal out to what Kiss and Dixon do, so a third player will have to step up for Quinnipiac and Chaise Daniels is primed to do so. Since Donovan Smith went down with an injury, Daniels has been the anchor for Quinnipiac on both ends of the floor and that will have to continue for the Bobcats to come out on top in this one.
Key to the game:
 Rider: Rebounding
Rider has the best rebounding margin in the MAAC at a plus-3.8 margin. Rider is top in defensive rebounds in the MAAC at nearly 28 per game, and going against the number one ranked offensive rebounding team in Quinnipiac, Rider's frontcourt will be put to the test. Kahlil Thomas is third in the conference in rebounding. Thomas will have his hands full with Chaise Daniels and Abdulai Bundu who both love to crash the glass and pick up offensive rebounds. If Thomas and the rest of the Rider big men can rebound like the top-ranked rebounding team in the conference it will severely limit what Quinnipiac is able to do on both ends of the floor.
Quinnipiac: Defense
The Quinnipiac defense has been very poor of late to say the least. The team has seriously missed the presence of big man Donovan Smith on the defensive end of the floor.  During its current five-game losing streak, Quinnipiac has been allowing nearly 92 points per game over that span. Quinnipiac is the only team in the MAAC allowing more than 80 points per game on the season at 82.6. The Bobcats are also allowing opponents to shoot over 46 percent from the field, which is tenth in the MAAC, with only the 5-15 Jaspers of Manhattan lower than them. Not only will the team need to tighten things up on the defensive end if it wants to come away with a victory for its seniors on Senior Day, but if Quinnipiac wants any chance to win a game or advance in the MAAC tournament, the team needs to find a way to stop the opposing team; something it cannot do right now.