Quinnipiac men's basketball set to take on Fairfield on ESPNU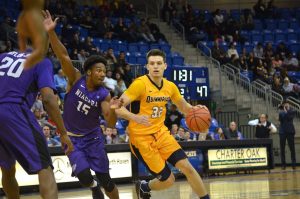 Quinnipiac and Fairfield are set to renew an instate rivalry on Friday at Lender Court. The Fairfield Stags men's basketball team makes the trip to Hamden to take on the Quinnipiac Bobcats in a game that will be nationally televised on ESPNU. When these two teams last faced off against each other, it was Quinnipiac coming out on top thanks to a last second shot by freshman Peter Kiss. Kiss led the Bobcats in the 73-71 victory on the road over the Stags on Feb. 6 thanks to an 18-point and 12-rebound performance. The Stags were led by junior guard Tyler Nelson who scored 29-points on 10-of-20 shooting from the field. Fairfield defeated Quinnipiac 84-80 in double-overtime last season in the matchup between the two teams at Lender Court. This game marks the tenth time this season that the Quinnipiac men's basketball team will play a game on the ESPN family of networks.
Last time out:
Fairfield: 69-67 Win vs. Rider
After an important win against Rider, Fairfield now sits at 8-7 in Metro Athletic Atlantic Conference play this season, good for sixth place right now. Fairfield finds itself just a half game behind both Canisius and Siena, both of which are 9-7 entering Friday. Against the Broncs, the Stags had four scorers in double figures, including 16-points and 8-assists from Nelson as well as 12-points and 10-rebounds from Amadou Sidibe. The Stags come in to this matchup having won two games in a row and five of their last six. If Fairfield wants a legitimate chance to get a first-round bye in the MAAC Tournament, a victory against Quinnipiac is a must.
Quinnipiac: 112-107 Loss at Rider
It was an interesting week for the Quinnipiac Bobcats a week ago. The team struggled mightily on offense against Saint Peter's shooting just 27.4 percent while scoring just 45 points. Fast-forward two days and the team shot 48.7 percent en route to a 107-point performance against Rider. The bad news for Tom Moore and Co. is the Bobcats dropped both of those games. The team's defense has struggled to stop the opposing team from scoring lately. One bright spot from the loss against Rider is Quinnipiac was able to find secondary scoring from players like Phil Winston (19-points) and Andrew Robinson (17-points) to aid Chaise Daniels, Mikey Dixon, and Peter Kiss who have been relied on to do majority of the scoring all season. Quinnipiac finds itself in a very tough position to get a first-round bye in the MAAC Tournament as they currently sit at 7-9, good for eighth place. The Bobcats need to come away with a victory in front of their fans to keep any hopes of a first-round bye alive.
Players to watch:
Fairfield: G Tyler Nelson (19.2 points per game, 2.9 rebounds per game, 3.4 assists per game)
Tyler Nelson is proving yet again this season that he is one of the top guards in the Metro Atlantic Athletic Conference. Averaging over 19 points per game for the Stags, he is by far their leading scorer. Nelson is the second leading scorer in the entire conference this season while also averaging the most minutes per game. After scoring 29-points against the Bobcats the last time out, Tom Moore and his team will need to limit Nelson in this game.
Quinnipiac: G Peter Kiss (13.7 points per game, 5.5 rebounds per game, 2.6 assists per game)
The reigning MAAC Rookie of the Week is a player to watch in every game, but especially in this one after what he did the last time these two teams played. Quinnipiac was down as many as 10-points in the second half, and Kiss was the one who stepped up to will his team to victory clinching the game with a game-winning bucket with 1.9 seconds to play. Kiss finished the game with 18-points and 12-rebounds. Kiss is the last Bobcat to record a double-double and will look to duplicate that output this time around. The Bobcats last victory came against the Stags, so look for Kiss to step up in a big way on national television, much like he did early in the season at the ESPN Advocare Invitational, to get the Bobcats back in the win column.
X-Factor:
Fairfield: F Amadou Sidibe
It is no mystery that the Quinnipiac Bobcats have struggled in terms of rebounding throughout this season. Amadou Sidibe is one of the best rebounding big-men in the entire conference. Sidibe is currently the only player in the MAAC to be averaging double-digit rebounds per game with 10.1. He also leads the league with three offensive boards per game. Sidibe could give the Stags several second-chance opportunities to lead to easy baskets. If he is as active as he can be on the glass, it could be a long day rebounding for Quinnipiac.
Quinnipiac: Secondary Scoring
Quinnipiac has relied heavily on Chaise Daniels, Mikey Dixon, and Peter Kiss to do the bulk of the scoring this season. The trio averages over 42 points per game for the Bobcats who as a team is averaging just over 76 points per game. Another player needs to step up for Quinnipiac in this game. Phil Winston, Andrew Robinson, Reggie Oliver, or Daniel Harris all have the capability to add an additional scoring threat for Quinnipiac, but none have been able to do so on a consistent basis. If the Bobcats can get another player going in addition to their main three guys, they will be a tough team to beat in this matchup.