Quinnipiac men's basketball to tip off with Niagara
Kriby Paulson and Cliff Nadel
February 4, 2017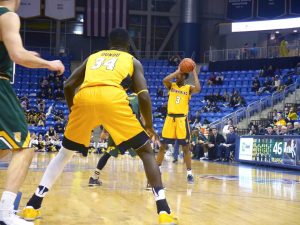 The Quinnipiac men's basketball team looks to bounce back on Saturday in ira Metro Atlantic Athletic Conference game against Niagara. Both teams have similar records; the Bobcats have a 5-7 conference record while the Purple Eagles have a 5-8 record.  Quinnipiac leads the all time series against Niagara 8-1. In their last meeting on February 28, 2016, Quinnipiac defeated Niagara at the TD Bank Sports Center 77-68.
In Quinnipiac's last game it played Siena a team that has done relatively well in conference play and currently has a 7-5 conference record. Lavon Long's 26 point 16 rebound and six assist game was more than enough to lead Siena to an 84-75 victory over Quinnipiac. The few bright spots for the Bobcats in this game were the play of freshmen guards Peter Kiss and Mickey Dixon. Both guards finished with 19 points and Kiss also contributed with seven assists.
After a so-so start to the season Niagara has been able to bounce back recently by winning three of its last six games. In their last game the Purple Eagles lost to Fairfield 81-61. Despite losing by 20 points, junior guards Matt Scott and Kahlil Dukes were able to keep their hot streaks alive. Scott finished with 18 points and eight rebounds while Dukes finished with 16 points, five rebounds and four assists.
This will be a tough game for two very evenly matched teams with matching conference records. Quinnipiac looks to be the slight favorite since it leads the all time series and Niagara hasn't won a game in the series since 2015 and Quinnipiac is also unbeaten at home in the series against Niagara 4-0.
Players to watch:
Bobcats:  Freshman guard Mickey Dixon has become the Bobcats main scoring threat this season. As we enter the last few games of conference play, Dixon is averaging a team leading 16.7 points per game and in the last five games Dixon has scored at least 15 points four times. In Dixon's last game against Siena he was able to put up 19 points. If the Bobcats are able to get Dixon the ball early and get him hot he can carry them to victory over a very similar team in Niagara
Purple Eagles: Junior guard Matt Scott has become the Purple Eagles renaissance man this season. Scott is main go-to scorer for the Purple Eagles leading the team averaging 17.3 points per game. Scott is also very active on the boards leading the team with an average of seven rebounds per game. He is also a relatively good ball distributor averaging just over three assists per game. In his last five games he has averaged 17.8 points per game and nine rebounds per game. If Scott can get hot early, it could become hard for the Bobcats to stop him.
Keys to the game:
Bobcats: Make it is as difficult for the Purples Eagles' hot shooters to get going. That means allowing them no easy shots and making sure all Purple Eagle shots are well contested. This also means dominating the defensive glass and limiting the Purple Eagles from getting second chance opportunities.
Purple Eagles: Get everyone involved in the offense. If Matt Scott and Kahlil Dukes can effectively distribute the ball and get their teammates involved in the offense, both of them will get a lot more open looks because the Bobcats wont be able to double either Scott or Dukes if the entire squad is actively involved in scoring.
Quinnipiac and Niagara will tip off this Saturday at Lender Court in the TD Bank Sports Center at 7 p.m.