Quinnipiac men's basketball to tip off with Saint Peter's
Kriby Paulson and Owen Kingsley
February 9, 2017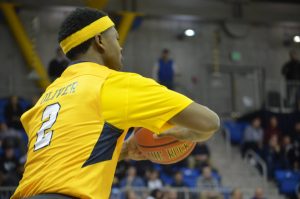 The school may be closed but the game will proceed. Quinnipiac will have another huge test Thursday night as conference opponent Saint Peter's University comes to town after both schools along with conference officials agreed to play this game through the heavy snow fall due to its importance. Quinnipiac notched a huge win on Monday in their come from behind victory against Fairfield (thanks to the last second heroics of Peter Kiss) and the Metro Atlantic Athletic Conference has been especially competitive this year. These games down the stretch are what separate the true conference title contenders.
Quinnipiac holds a 7-7 record in its conference, which puts them at sixth in the conference rankings (top 5 five teams earn a first-round bye). Saint Peter's claims an 8-6 record and sits fourth in the rankings. In its one previous meeting this year Saint Peter's held on to win 58-54. This game could potentially put Quinnipiac in a great position come playoff time. These are my keys to the game today for Quinnipiac and things they should avoid from the last meeting:
Feed the freshmen:
Mikey Dixon and Peter Kiss simply need the ball in their hands. Tom Moore has done a phenomenal job bringing these two along this year and now their improvement is resulting in wins. But most importantly the two have created a much better perimeter game that must be respected, and have certainly been taking some pressure off the shoulders of Chaise Daniels down low. They are the two rising stars for this team and great sources of offense; they are combining for 30.4 points per game.
Establish momentum early:
Saint Peter's is suffering a three game losing streak. It will look to end it here on the road so the Bobcats must jump out of the gates early in this one. Pick up the pace with Harris and the other guards when in transition and make Saint Peter's accommodate to your style of play.
Rebound:
Do what Quinnipiac has done well for years and control that glass! Do not allow for second chance opportunities; that is exactly how Saint Peter's can stay in this game. In the previous matchup Quinnipiac did lose but still outrebounded them 40-28. They must continue to dominate that area.
Alain Chigha must step up:
With the injury to Donovan Smith, Chigha has been logically the next big man to step up. Smith held an important role in the frontcourt depth of this team, but without him Chigha must now act as the big body off the bench both in the post and protecting the paint. That first bench unit with Chigha will be a critical point in the game to see what assistance he can add and whether he can hold down the game while players like Daniels and Abdulai Bundu get a breather.
Make smarter decisions with the ball:
In their last meeting in January, the big difference maker for the Peacocks was the turnover game. Quinnipiac committed 18 turnovers while Saint Peter's limited their turnovers to just nine.  Quinnipiac cannot be that reckless with the ball and hope to walk out tonight with a win. The two freshmen Dixon and Kiss both committed five that game and hopefully their rising status since that last meeting will lead to smarter passes.