MacGillivray somehow makes it all work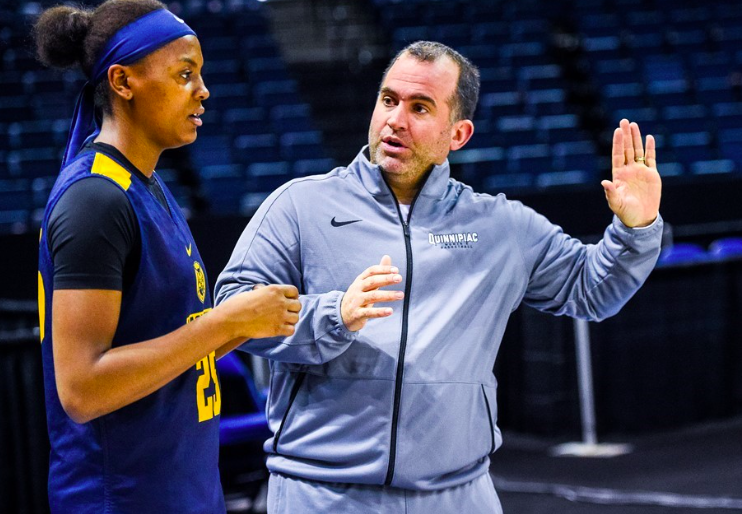 There is only so much time in a single day. Perhaps no one utilizes that time better than Quinnipiac Associate head coach Mountain MacGillivray. MacGillivray is the associate coach to 16 players and is also a father to seven of his own kids.
Quinnipiac head coach Tricia Fabbri, whose team is playing in the sweet sixteen, can't believe what MacGillivray can accomplish.
"He makes a 48 hour day in a 24 hour day," Fabbri said. "Just an absolute worker and grinder and his children are phenomenal. His wife Grace is wonderful. He and Grace have created an incredible family that allows him to be at his best at work and at home."
MacGillivray, who is in his seventh season under Fabbri, has done an outstanding job recruiting at Quinnipiac. MacGillivray has recruited 15 All-Conference players and his teams have achieved multiple 30 win seasons.
Just last week MacGillivray's wife delivered their seventh child.
His players have no idea how he is able to manage being a father to seven and be at every practice.
"He's done a great job juggling the two," redshirt senior Adily Martucci said. "That's really hard because he has a big family and a newborn is a lot to deal with. I think he does a great job with juggling the two and handling both jobs really well."
"It's amazing I don't know how he does it," senior Morgan Manz added. "He is in his office working all the time and he has seven kids at home. I give him all the credit because I can only imagine how hard that is."
It isn't all that common to have seven kids, but having a big family is the only way MacGillivray knows.
"My mother was the oldest of 10 and her youngest brother was a year older than me," MacGillivray said. "It was like I was the youngest of 11. I told my wife when she was just my friend at the time that 'I want 10 kids' and she said 'I want 15' and I said great."
Perhaps the greatest aspect of the MacGillivray family is how much they adore their father's team.
"It's really nice they're all our role models," Mountain's oldest daughter Chiara said. "We watch how this player does that and we learn how to play from them. All of them are really nice and they make our time hanging out with them very enjoyable."
The Quinnipiac women's basketball team is a family. Coach Fabbri created the culture and MacGillivray has continued it.
"Oh my gosh I love it! It's the only way I know," Fabbri said. "I had my kids around and I love it when the kids come around. It makes us who we are. Its not for everybody but it's certainly who we are."
Quinnipiac redshirt sophomore Jen Fay loves how enthusiastic the MacGillivray family is about the team. "Obviously his kids are always here supporting us," Fay said. "They're our number one fans. They probably have 10 posters signed hanging all over the house. He such a great coach and has made me so much more confident in my game and I'm sure his kids feel the same way about him. It's part of the big family we have here at Quinnipiac."
To make sure he has time for everything, MacGillivray cuts out a huge timewaster that most American's can't go without.
"The demands of work and family are always there and you'll just make it work. Love makes it work. I don't have a television at home. I don't have my time committed to watching this show or doing that. I coach basketball and then I hang out with my kids."
If you thought all of that was impressive, MacGillivray is currently coaching his daughters travel basketball team. Seriously.
Mountain MacGillivray is living every person's dream. He doesn't have to sacrifice his career or his family life. He gets to have it all.