Quinnipiac Bobcats clinch third NCAA Tournament birth in half a decade
Kriby Paulson and Joshua Silverman
March 6, 2017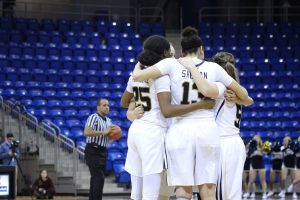 The dynasty continues.
Quinnipiac head coach Tricia Fabbri will lead her team to its third NCAA Tournament game in just five years.
Earlier in the season, the Bobcats had trouble finding someone to turn to when they needed a big-time bucket. In an 81-73 victory over the Rider Broncs, the Bobcats found and fed sophomore Aryn McClure.
"How about a phrase," Quinnipiac head coach Tricia Fabbri said when asked to describe Aryn McClure's performance in one word. "She was not going to let us lose tonight."
McClure finished with a career high 28 points in the victory. From the tip she was clearly the best player on the court. She connected on eight of her 12 shots from the field and went to the line 14 times, sinking 12.
McClure, the sophomore forward, echoed her head coach's message after the game.
"It was just adrenaline," McClure said about her performance today. "We were down and there was no way we were losing again in the championship."
Coming off a season in which Quinnipiac lost in the championship game, they weren't going to let another team take the championship from them this season.
However, McClure wasn't the only Bobcat to catch fire.
Redshirt sophomore Jen Fay continued her impressive shooting from behind the arc, again knocking down three shots. Fay, who has struggled at points this season, only wanted to thank her teammates.
"Just giving the credit to my teammates they always have the confidence in me to just keep shooting," Fay said. "I had a rough game against Canisius and I just wanted to come out and contribute the best way I could and I was just glad to see the ball go through the net."
Quinnipiac had to claw its way back early in the first quarter, something which they have experienced all tournament. However, they went into halftime with a lead and never surrendered it.
"We actually went into the locker room up one which was a little bit different," Fabbri said. "The second half we never looked back and now we're crowned MAAC Champions and we get to get into the NCAA Tournament."
Fabbri believes being in situations where the team has to come from behind helped her team be prepared for today.
"How mentally tough, how resilient, how incredibly impressive they (Quinnipiac) are with their grit and finding a way to win and how hard this is to do," Fabbri said. "When you're preseason number one, going through the regular season, there was nothing easy about this year."
After the game Tricia Fabbri got to share the victory with her daughter, junior guard Carly Fabbri.
"It was an amazing feeling. Not only with the team but also with Carly. Carly had such a good weekend for us so it was really special I'm really pleased, "Fabbri said. "She worked really hard she had some big shots for us. In the end I can turn the coach off and turn the mother off and be really proud. What she was able to accomplish and help us win this weekend was really really awesome. It was awesome."
The Quinnipiac Bobcats will get to celebrate until Selection Monday when Fabbri and her staff will be back in the office scouting its next opponent.