Quinnipiac set to face Canisius in MAAC quarterfinals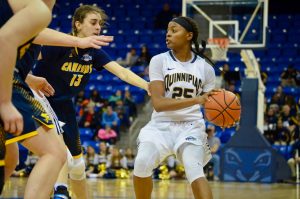 Though the men's basketball postseason chase is over, the Quinnipiac women's basketball team hopes its run is just getting started. The Quinnipiac Bobcats (24-6, 17-3 MAAC) will open up their Metro Atlantic Athletic Conference postseason play at the Times Union Center in Albany, New York against the Canisius Golden Griffins (10-20, 8-12 MAAC) Friday. The Bobcats are coming off their third straight regular season MAAC title, entering the tournament as the number one seed. Canisius, the number eight seed, defeated Niagara in their first round game 80-74 in overtime. The winner of this matchup will get to face the victor of the Siena and Iona contest.
Players to watch:
Canisius: Sara Hinriksdottir (Sophomore forward)
Hinriksdottir is the Golden Griffins' leading scorer and overall top player. She leads Canisius with 15 points per game and shooting .466 percent from the field. Hinriksdottir notched 11 points in the first-round game against Niagara.
Quinnipiac: Adily Martucci (Redshirt senior guard)
Martucci admitted after clinching the regular season championship that she wants to win the MAAC title badly; that would start here. Quinnipiac has proved all season that they click, as Martucci clicks. Martucci seems to step up in the big-time moments as well. The guard limited Iona's star guard Marina Lizarazu to only four points when the Bobcats faced the Gaels in February. Look for Martucci to step up yet again in her final MAAC tournament.
Keys to the game:
Canisius: Keep Welch hot
Maria Welch is coming off a career day scoring a career-high 25 points against Niagara in the Golden Griffins' first round win, including seven in overtime. The Golden Griffins need Welch to stay hot from the field, and have their usual leading scorers Sara Hinriksdottir, Lauren D'Hont and Margaret Halfdonnardottir contribute like they have all season. That group of four scored 71 percent of Canisius' points in the regular season. They need their stars to shine bright in the big moments.
Quinnipiac: Do not discount Canisius
The Bobcats have one goal in mind, and that is to win the MAAC title and reach the NCAA tournament. Though, they cannot look right over the Golden Griffins. Canisius is a team that played them tough, only losing by 13 less than a week ago. Canisius was able to hang around the whole game, and showed that same grit against Niagara getting their win in overtime. The Bobcats must focus on each game and not look too far into the future, or else there may be no future.
Bryan Schwartz and Ryan Chichester will have the call of the game live on the Quinnipiac Bobcats Sports Network. Follow our reporters on Twitter at @BryanSchwartz15, @ryanchichester1, @JoshMSilverman and @shanedennehy15 for continued coverage of the MAAC tournament.