Quinnipiac set to face-off with Harvard in conference semifinals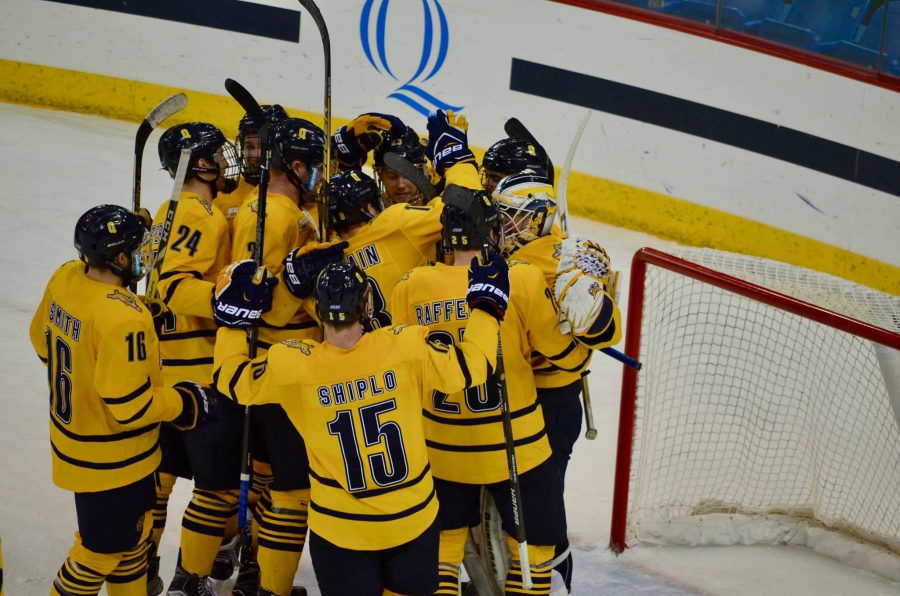 How they got there:
Quinnipiac is coming off a very impressive come-from-behind series victory against fourth-seeded St. Lawrence. The Bobcats dropped game one after an impressive performance in game one from Saints' goalie Kyle Hayton, but bounced back to strike for six goals over the next two games, obtaining the two victories to send them to Lake Placid.
Harvard is coming off an extra day of rest as its series against Ivy-League rival Yale only went two games as the Crimson picked up the series sweep. Harvard was led by two players in particular with Sean Malone notching six points in two games for the Crimson and Tyler Moy following behind with five points of his own.
Previous matchups:
The teams will meet for the 30th time in the two programs' histories Friday afternoon, while they have also met twice this past season, with each team getting a win on home ice.
The Bobcats gave the Crimson their first ECAC Hockey loss of the season with a 4-2 victory in which four different Quinnipiac skaters scored, including Brogan Rafferty and Luke Shiplo, who each had power-play goals.
Harvard struck for its win in January behind three power-play goals that came within forty-four seconds of each other. The Bobcats were not able to rebound after falling down into such a steep hole, losing to Harvard, 5-2.
Players to watch:
Brosh:
Luke Shiplo: The Bobcats' defenseman… Forward…? The Bobcats' skater seemed to find himself back in the power-play groove this past weekend and played with the chip on his shoulder that is necessary for him to excel. Not only all of that, but Shiplo has also recorded three points against Harvard this season including two goals. The Bobcats will look for him to "quarterback" that second power-play unit during the man-advantage Friday and will look for him to continue producing against the Crimson.
Andrew Shortridge: The Bobcats' freshman goaltender has yet to face a full 60 minutes against the Crimson. Shortridge came in to relieve Chris Truehl during their loss in January and held strong, making 12 saves in the shortened outing and not allowing Harvard to find the back of the net. Shortridge has been arguably the Bobcats' best player in their postseason so far, continuing his impressive Febraury campaign where he led all ECAC Hockey goalies with a 1.78 goals against average.
Clouts:
Ryan Donato: No two ways about it, Donato may have the most potential in terms of all the players in this matchup. The true Sophomore is a second round draft pick of the Boston Bruins from the 2014 NHL Entry Draft. He has surely lived up to expectations with 21 points in his freshman campaign, and 36 points so far this season. Donato is good in all facets of the game, but his biggest attribute is his speed.  Expect him to try his best to turn Bobcat defender's hips and take them to the net. If he is successful, then it will be a long night for the Bobcats.
Derek Smith: A captain, a silent leader and a second goalie on the ice, Smith embodies everything a coach could want in a player. His character and accountability are second to none, and that is why he is one of my players to watch. Smith is a player that has been battling an injury all season, but that has not stopped him from participating in 32 games. Smith has only recorded nine penalties this season, and he is an exceptional penalty killer, so the Bobcats need his discipline for this big game to be successful. Smith is third on his team in blocked shots with 52, so expect him to lay his body on the line during this tough game against Harvard.
Predictions:
Clouts: I truly like this matchup for the Bobcats. They defeated them at home early in the season and have been hot as of late. Harvard is a completely different team since that game, but I think the Bobcats have their number in Placid, defeating them in the Championship game last season. So with that in mind, I believe the Bobcats win 5-3.
Brosh: You can see in the first five minutes of a game this season if the Bobcats are going to have a strong game. Going on along with that idea, the Bobcats are 8-2 this season when they score a goal in the first five minutes, and 2-0 this postseason. If this team can build off the momentum of game two and game three while avoiding those early-period jitters, Quinnipiac could find themselves in another battle for the Whitelaw Cup