A Bright Future for Quinnipiac on the Horizon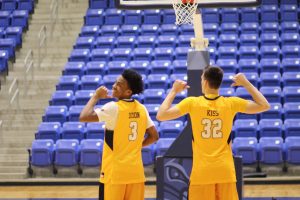 The sun may have set on Quinnipiac's season, but it will rise and shine bright in October when Mikey Dixon and Peter Kiss begin their sophomore seasons.
As a team, it was a disappointing end to the season; but for Dixon and Kiss there is a lot to look forward to in the future.
Head coach Tom Moore is confident those two guards will be the cornerstones for this team in the 2017-2018 season.
"I love our foundation," Moore said. "Pete and Mikey obviously have an incredibly bright future."
Dixon and Kiss were first and second on the team in scoring with 16.8 and 13.3 points per game, respectively. Each were unanimous selections to the MAAC All-Rookie team. Together they won ten MAAC Rookie of the Week awards over the course of the season, with Dixon earning six and Kiss notching four.
Moore recalled UConn coaching legend Jim Calhoun saying how a championship team needs three top 15 players.
"In my first year in the MAAC, we had three of the top 15 guys in the league, and we came in third," Moore said.
And he believes this team has that type of talent with Chaise Daniels as the third piece to the trio.
"The growth that he's had, he'll be the best big in the league next year," Moore said. "That's a heck of a foundation."
Daniels, a junior, was third on the team in points right behind the freshmen guards, scoring 13 points per contest. He led the team in total rebounds (103), rebounds per game (6.2), offensive boards (68) and blocks (52).
"Next year, he'll [Daniels] be the best big man in the league. They're [Dixon and Kiss] going to be two of the best guards in the league."
Whether Moore will be there on the sideline with the trio is in question, as he admitted his concern over whether he will return.
"Yeah, I'm concerned. Yeah. Of course. This is a really tough business. It's a results-driven business. I'm concerned," Moore said.
Over his ten years at the helm, Quinnipiac has failed to win a conference tournament.
Though, that conference tournament championship may be on the horizon, as a new dawn will arrive in Hamden next season.