Fay and Cuevas-Moore go way, way back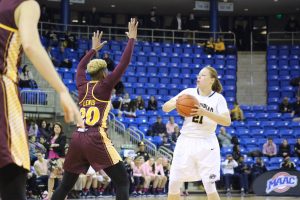 South Carolina junior Guard Bianca Cuevas-Moore and Quinnipiac redshirt sophomore Jen Fay are quite familiar. The duo, which will face off in the NCAA's Tournament on Saturday, have played basketball together before.
"We went to high school together and played AAU together so we have a pretty cool relationship," Fay said. "It's going to be fun."
Fay and Cuevas-Moore both attended Nazareth high school in New York and played together for five years. They have managed to stay close since going to college, especially in the past week.
"We've talked several times since (Quinnipiac) beat Miami," Fay said. "We just joke around about it but once we get on the court obviously its serious but we're pretty good friends."
Cuevas-Moore averaged over eight points per game during the season and recorded 25 points through the Gamecocks first two NCAA Tournament games. She is a key player for the Gamecocks and played the fifth most minutes on the team.
Fay is equally as important for the Bobcats. After tearing her ACL in 2015, Fay went on to redshirt her true sophomore year. Since coming back from the injury she has gone on to lead the Bobcats in points per game with 10.4. Fay has recorded 29 points through the Bobcats first two NCAA Tournament games this season.
One of the most talked about plays on the Quinnipiac campus and on social media this past week is Fay's spin move against Marquette. However, the play came as no surprise to her high school teammate.
"I've been seeing her spin moves for years now," Cuevas-Moore said. "That's her go to move."
Although the two go way back, Fay doesn't think there will be a problem separating the game from her friendship.
"We're both taking basketball very seriously and this is the NCAA Tournament," Fay said. "I don't think any type of friendship is going to get in the way of coming out with a win."
Cuevas-Moore echoed Fay's message.
"It was exciting she texted me and she said 'Sweet 16 baby here were come' and I said 'ok we're ready'," Cuevas-Moore said. "This is a business trip we're here for business."
Fay and Cuevas-Moore have developed a great relationship after playing together for some many years. It is exciting to finally go up against each other.
"I think its awesome us being here and also playing against her," Fay said. "We've never played against each other so it'll be fun and I think all of our coaches back home are rooting for us."
After playing basketball together for years this will be the first time the pair will play on opposite teams.
"If I get the chance to guard her I might do a little something," Cuevas-Moore joked.
On the flip side, Fay knows how she would handle Cuevas-Moore.
"I think she's a lot quicker than me. If anything I'll just post her up."
As two high profile players on their respective teams, both Cuevas-Moore and Fay will need to put up big numbers for their team to come away with a victory.
At the end of the day, Cuevas-Moore is happy to be facing Fay.
"I'm actually very excited. She's probably the first teammate since high school I'll be playing against."
Fay ended by reiterating her earlier message.
"It's going to be a great game and going to be a lot of fun."
The two will meet on Saturday in Stockton, California for the Sweet 16.