Women's basketball's Sweet 16 appearance ends in bitter disappointment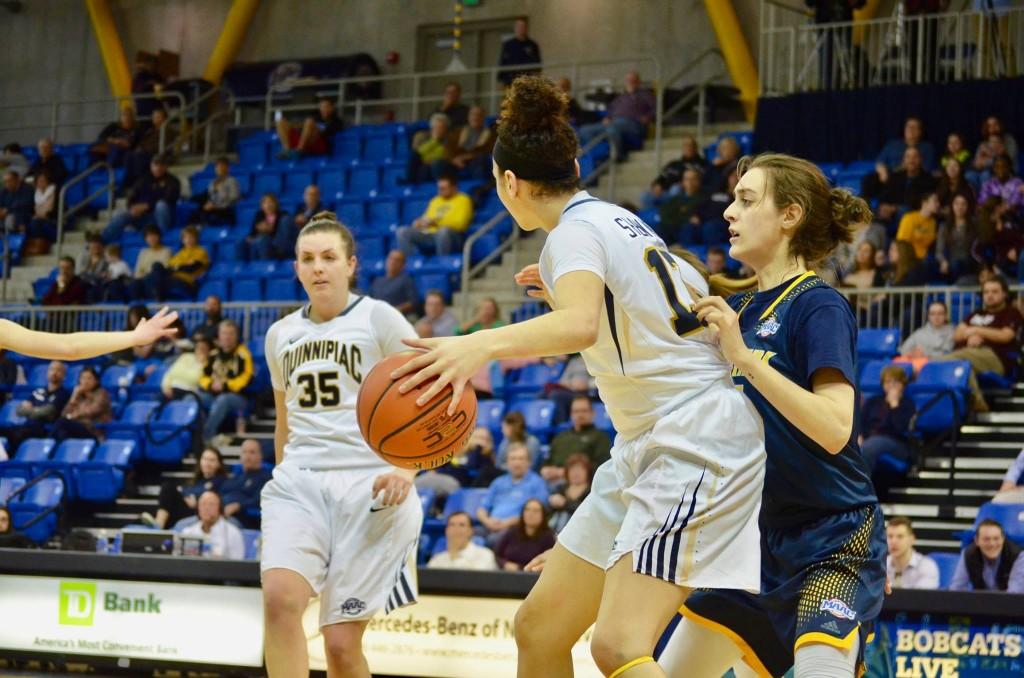 Quinnipiac entered the Sweet 16 as one of the most talked about teams in all of college basketball. However, the Cinderella story had to ended abruptly Saturday as the Quinnipiac Bobcats fell to the South Carolina Gamecocks 100-58.
The 100 points scored by South Carolina was the most scored against Quinnipiac since Oklahoma scored 111 on March 21, 2015; Quinnipiac's first NCAA Tournament appearance.
Any mistake the Bobcats could make against a conference opponent or even their first two NCAA Tournament games couldn't show up today. Unfortunately for head coach Tricia Fabbri's team, they did.
"They disrupted us all day long in terms of us feeling comfortable offensively," Fabbri said. "With that being said I thought we were playing really quickly with our shots to start the game."
Quinnipiac totaled nine unforced turnovers throughout the game and finished with a total of 17 turnovers. From miscommunication to travels, Quinnipiac was flustered from the start.
Although the Bobcats were able to create some space, Paula Strautmane's first two shots missed and Quinnipiac fell behind early. South Carolina held Quinnipiac scoreless through the first seven minutes of action.
"I felt that we were playing offensive basketball fast forward," Fabbri said. "We weren't as calm as we had been and a couple of our shots was the right shot but it didn't go in. We were trying to play too quickly."
Quinnipiac's biggest task entering the game was containing junior forward A'ja Wilson. Listed at 6"5, Wilson is the biggest player Quinnipiac has faced all season and she played like it today. She finished with 24 points and four rebounds while shooting 77 percent from the field and not missing a shot from the free throw line.
"They shot lights out and our game plan was to try to help our big's with Wilson and something has to give when that happens," redshirt senior guard Adily Martucci said. "Those three's were really daggers. It felt like they shot 100 percent from the three point line. "
It wasn't just Wilson that had Quinnipiac searching for answers. Junior Kaela Davis tore through Quinnipiac's tough defense, scoring a total of 28 points.
Whenever Quinnipiac missed a shot South Carolina was there to get the rebound. It almost doubled the amount of rebounds Quinnipiac recorded and used that to its advantage, scoring 10 second chance points.
"We ran the same offense that we've been running all year and its been working really well," Quinnipiac redshirt sophomore Jen Fay said. "I thought the only difference was that they were just a little faster, a little bit stronger and a little bit bigger and I think it took its toll as the game went on."
Free throws is an aspect of the game that South Carolina does best and today wasn't any different. South Carolina was able to get to the line 19 times, connecting on 18 of the shots.
Quinnipiac might be the marquee program in the Metro Atlantic Athletic Conference, but the disparity between the mid major and South East Conference teams were evident on the court. Simple errors like missing open shots and turning the ball over won't win games against high level compeition.
Although this loss will linger, the Quinnipiac Bobcats have to be proud of what they accomplished. All good things must come to an end.