Welcome to Beantown: Charlie McAvoy
Kriby Paulson and Nick Beaudoin
April 10, 2017
Charlie McAvoy is the future of the Boston Bruins franchise. He is a generational talent that doesn't come around too often. The Bruins made one of their greatest picks in the team's 93-year history when they selected McAvoy 14th overall in last year's draft. The 6-foot, 208-pound offensive defenseman has played at the highest ranks of American hockey his entire life. McAvoy is product of the National Team Development Program in Ann Arbor, Michigan and most recently a sophomore at Boston University.
A native of Long Beach, New York, McAvoy just finished up his fourth game in the American Hockey League playing for Boston's affiliate the Providence Bruins. He currently has two points and is a plus three in those four games. Its more than the stats that make McAvoy such a special player. His ability to jump up in the rush without leaving his team at risk defensively is remarkable.
He is one of the greatest skaters I have ever seen, moving graciously laterally and north and south on the ice. His shot is both hard and accurate and he knows what he is going to do with the puck before he gets it. You can tell that his hockey sense and IQ is off the charts. He kills penalties and sacrifices his body and runs a power play like no one else. He is a three-zone player, which is something you don't see from a defenseman every day.
McAvoy has taken a lot from his time in Providence so far.
"With every game I'm getting a little more experience. It's a fun group of guys," he said.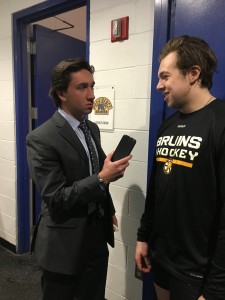 A big reason McAvoy was able to sign his ATO (Amateur Try Out) with the Bruins when he did was because his season with Boston University ended after they lost in overtime to the national runner-up, the Minnesota-Duluth Bulldogs.
"It was a quick turnaround," he said. "We lost to Duluth Saturday and I signed Wednesday so it was a bit of a whirlwind. It was something I wanted to do. I wanted to get to my next destination which was Providence and continue to play hockey while I was fresh."
McAvoy said the transition so far has been positive.
"The guys on this team make it really easy and I was fortunate to have the transition I did."
His time at Boston University, although only two years, was very beneficial for McAvoy both personally and athletically. He said that started with coach David Quinn.
"Coach Quinn was one of the best coaches I've ever played for," McAvoy said. "We were able to build a great relationship and he taught me so much about the defensive position. I'm so fortunate to have gone to BU and play under such a great coach."
One of the most influential leaders now with the Providence Bruins has been 27-year-old captain Tommy Cross.
"He makes it really easy," McAvoy said. "I'm able to go out there and play my game and he helps me settle down."
McAvoy donned the "A" at both the World Junior Championships, where he won a gold medal with Team USA, and at Boston University. He is a leader on and off the ice and knows what it takes in big games and he knows how to win. However, at only 19 years of age, some may find it hard for a person who is a born leader to have an impact playing with grown men in their 30's and even 40's.
"I don't try to step on the toes of the guys who are our leaders here," McAvoy said. "They are well distinguished and they have been around and know exactly how it goes. I do try to mix in and support the guys as much as I can and be vocal here and there."
As both the Providence and Boston Bruins gear up for the playoffs, there is speculation with recent injuries to defensemen Brandon Carlo and Torey Krug, that McAvoy could get the call up to the big club. He said wants to stay focused on where he is.
"Right now, I want to focus on where I am, which is Providence," he said. "I'm excited to be here and the team is playing really well right now."
There is no question when Charlie McAvoy get the call to Boston he will have an impact right away. He has everything it takes on and off the ice to be a great professional and the Bruins need to do everything in their power to sign him long term when his entry level contract is up. A great player and a better guy, Charlie McAvoy is the real deal. Welcome to Beantown.