Bobcats Take Game One of Doubleheader Against Manhattan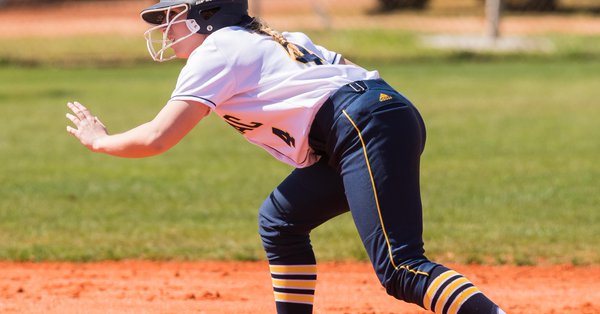 Hang on for a minute...we're trying to find some more stories you might like.
The Quinnipiac softball team (22-25, 8-9 MAAC) started their weekend play with a doubleheader against the Manhattan Jaspers (31-18, 11-6 MAAC) on a beautiful Saturday afternoon. The Bobcats looked to rebound from their doubleheader sweep against Canisius last weekend, and they did just that in game one, defeating the Jaspers 4-1. Senior day featured pregame recognition for seniors Kat Vitale from Cheshire, Connecticut, and Sarah Heimbach from Greenwich, New York. Vitale and Heimbach have led Quinnipiac softball to 78 total victories, two of which occurred in the Bobcats' first MAAC tournament appearance.
The first three innings of game one were scoreless with some brilliant pitching by Quinnipiac junior Casey Herzog, as she got out of a jam with a runner on third in the first inning. Manhattan's infield also contributed to the lack of scoring in the first three innings, turning an acrobatic double play to end the third inning. The absence of runs, however, would turn quickly in the very next two innings.
In the top of the fourth, not only did Herzog walk Manhattan's pitcher Briana Matazinsky, but she followed the next at-bat with a wild pitch that put Matazinsky on second base. Bobcat freshman Rachel Marchuk then committed an error on a ball hit by Manhattan's Lauren Pitney, which created a situation with runners on first and third with no outs. Though Quinnipiac registered a huge strikeout against Jenn Vazquez, Herzog walked a Jasper to put herself in a bases-loaded jam with just one out. Marchuk redeemed her error that same inning when she made an over-the-shoulder catch for the second out. However, Herzog walked a third batter, which drove in the first run of the game in favor of Manhattan. Fortunately, Herzog would then strikeout the next Jasper batter to get out of the threatening jam, allowing only one run. Little did the Jaspers know that tallying just one run with that opportunity would immediately fire back on them.
Quinnipiac senior Vitale gave Manhattan's Matazinsky a run for her money to start the top of the fifth inning. After a long battle at the plate, the Bobcats forced a walk. Herzog followed up with a blooper to right field, putting runners on first and second base with no outs. After the Jaspers recorded their first out, Matazinsky walked the next Bobcat to force a bases-loaded scenario. Junior Miranda Magana would not waste this chance, as she drove home Vitale and Herzog with a two-run double to give Quinnipiac their first lead of the game. Sophomore Rebecca Drake continued the Bobcats' momentum in the fifth when her pop-fly hit dropped right on the third base line to force another bases-loaded situation. A sacrifice fly brought home another Bobcat run to extend Quinnipiac's lead to 3-1. To finish off the scoring affair, Oregon native Lexi Courtney hit a line drive to bring home Magana to make it a 4-1 lead. A Manhattan pitching change from Matazinsky to freshman Kayla McDermott allowed the Jaspers to register their last out of that inning.
The sixth and seventh innings were reminiscent of the game's beginning, since no runs were registered by either side. The Bobcats held on to take game one by a final score of 4-1.