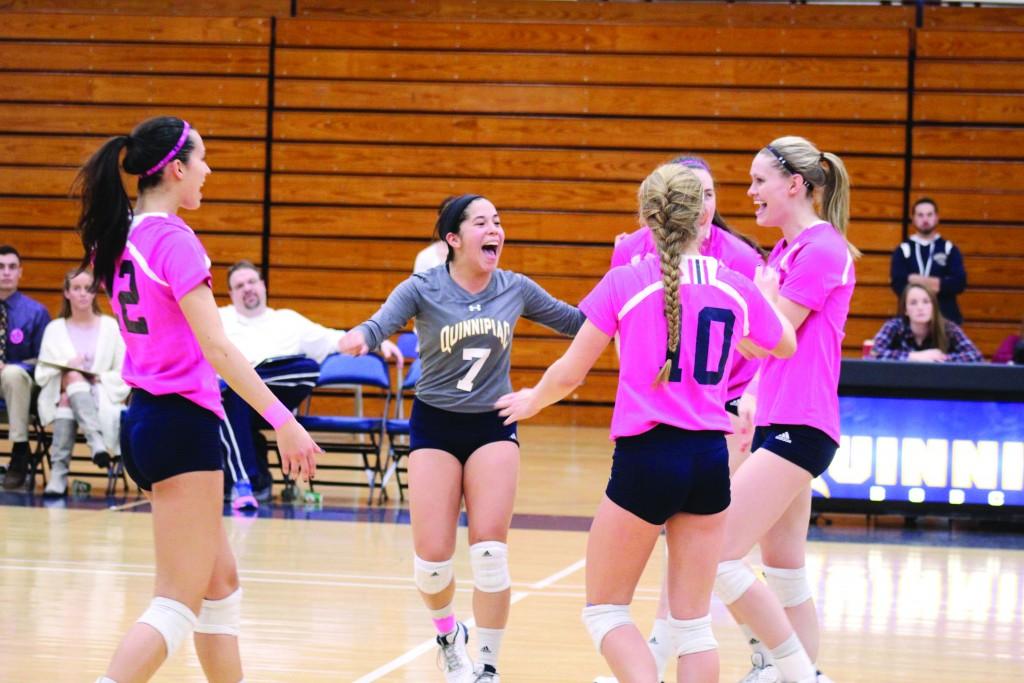 To most students going to school at Quinnipiac, something that happens in Florida or Puerto Rico can feel like it's happening a world away. Though we all share a common bond, we're too far away to see how something like a natural disaster truly affects our fellow countrymen and women.
But not all students share this sentiment, especially Alejandra Rodriguez.
Rodriguez, a sophomore libero on the Quinnipiac women's volleyball team, is a native of Toa Alta, Puerto Rico. Although she moved to Miami, Florida when she was 11 years old, the same cannot be said for the rest of her family, who were still on the island when Hurricane Maria arrived.
On September 20, 2017, the hurricane made landfall in Puerto Rico. According to The Atlantic, the storm brought winds well over 100 miles per hour and rainfall totals north of 40 inches. It also caused the loss of power and cell service to nearly 95 percent of the 1.57 million electricity customers on the island, according to Weather.com.
"My whole family is in Puerto Rico," Rodriguez said. "A lot of my family is being affected right now."
Just how devastating was the hurricane? It was ranked as the tenth most intense Atlantic hurricane on record, with peak winds reaching 175 miles per hour. It was the strongest hurricane to make landfall in Puerto Rico since 1928.
Most important on Rodriguez's list of the family affected by Maria was her father, Miguel Rodriguez. When Rodriguez and her mom moved to Miami, he stayed behind in Puerto Rico, and still lives there now.
"My dad's house has no power," she said. "He has to spend twenty dollars every day to keep the generator running."
Aside from her father, Rodriguez's entire extended family still lives in Puerto Rico, as well. Her grandparents and half-brothers are all there, all struggling to rebound after the devastating storm.
"My grandparents are both sick, so they can't get their medicine because all of the hospitals are closed."
The numbers don't lie when it comes to hospitals. According to Weather.com, only 14 hospitals' power had been restored more than a week after the hurricane hit. These hospitals are now being asked to service the 3.4 million citizens of Puerto Rico while battling dwindling medical supplies, terrible road conditions, and constant flooding.
In terms of physical damage, nobody has seen it worse than her two brothers.
"My two little brothers, their mom lost their house," she said. "They lost everything they had."
Death. Destruction. Loss of power. No transportation. No water. Limited medical supplies. All in the place that she called home.
Having to deal with this type of devastation is a lot to deal with for any college student, let alone a student-athlete in a Division I volleyball program. For Rodriguez, not being there is the hardest part.
"It's definitely hard seeing my family struggle like that," she said.
Despite all of the turmoil going on in Puerto Rico, Rodriguez's father still calls her regularly. While their phone calls come few and far between, the message from her father always remains the same.
"He tells me 'don't worry about it, we're all okay, keep doing what you're doing and keep making me proud'."
Though it may only be a phone call, you can tell that each conversation means the world to her, as it makes the over 1,600-mile distance between the two feel just a little bit shorter.
"If I can't be there with them, then at least I can still do my job here and help my team win and make them proud from that," Rodriguez said.
Being so intimately connected to the situation, Rodriguez recognizes the important role that we can play in helping rehabilitate the island of Puerto Rico. To the citizens of Puerto Rico, every bit helps.
"If we could collect water, canned food, paper towels and toilet paper, stuff like that that they need a lot of, that would be awesome."
For more information on how and where to donate your money and goods, visit the Center for International Disaster Information's website, cidi.org.