Men's hockey takes down No. 3 Clarkson, 4-1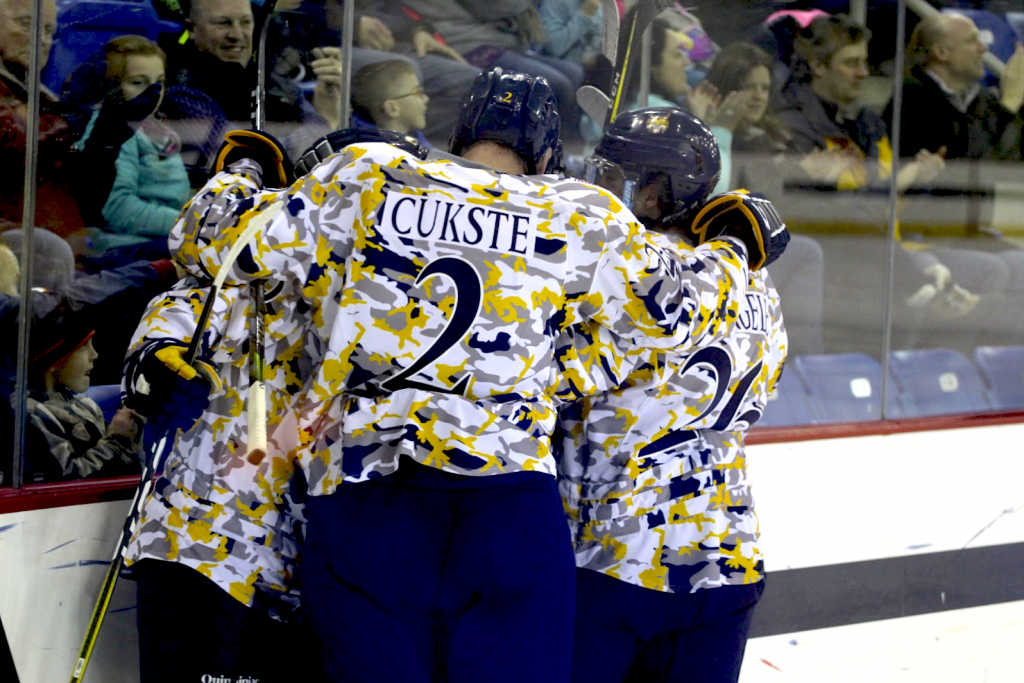 Quinnipiac men's ice hockey (10-13-4 overall, 5-8-2 ECAC Hockey) broke their winless streak at home last night against the No. 3 ranked Clarkson Golden Knights (19-5-3 overall, 11-2-2 ECAC Hockey) with a 4-1 win.
Just 20 seconds into the game, Clarkson sophomore netminder Jake Kielly made an early stop against a Bobcat offensive rush. The Golden Knights then responded with an odd-man scoring opportunity of their own, but freshman Bobcat goalie Keith Petruzzelli made an excellent stop. Tanner Macmaster then notched the game's first goal, and his 12th of the season, off a three-on-one rush. Clarkson attempted to answer the bell and tie the game, but Pertuzzelli came up huge to maintain the 1-0 Quinnipiac lead.
"We knew they were a really good team," Macmaster said. "But, I think we came out with the mindset that we're right with them."
Clarkson imposed their physicality on the Bobcats in the first period, finishing every legal check possible and maintaining their relentless play throughout the second period. Quinnipiac put their penalty kill to the test just 43 seconds into the second frame and prevailed. Bobcats forward Odeen Tufto then delivered a beautifully timed pass to sophomore right winger Nick Jermain, who buried the shot to extend Quinnipiac's lead to 2-0. Head coach Rand Pecknold was exceptionally pleased with how his team prepared for Clarkson.
"They're an excellent hockey team," Pecknold said. "This was certainly a tough test for us, and I was really pleased with our battle level."
The game's turning point transpired when it looked as if Clarkson registered a goal just 4:30 after Quinnipiac extended their lead. However, the officials reviewed the play and ruled the Golden Knights had too many players on the ice at the time of the goal and stripped the goal from Clarkson.
Quinnipiac took advantage of this call as sophomore Alex Whelan tallied his 13th goal of the season off an incredible individual effort. Assisted by defensemen Bo Peiper and Brogan Rafferty, Whelan collected the puck starting from his own defensive zone, then hit the jets and outskated all the Clarkson skaters and extended the Bobcats' lead to 3-0. Quinnipiac captain Chase Priskie was satisfied with the return of playing style this team is accustomed to using.
"It was nice to get right back on track and play Quinnipiac hockey," Priskie said.
Clarkson got on the scoreboard in the third period on the power play when a deflected shot made its way to freshman Kevin Charyszyn, who tallied his sixth goal of the season and cut Quinnipiac's lead to 3-1. In the final seconds, Clarkson pulled their goaltender for the extra attacker. Even after a post shot, it wasn't enough to stop the Bobcats from registering an empty-net goal by junior Brandon Fortunato, sealing the victory for Quinnipiac.
"The guys were really excited to play a top-five team in the nation, and they showed up," Pecknold said. "I thought we backed off and got too passive in the third period, but we responded well after that."
Quinnipiac is back in action at home against the St. Lawrence Saints tonight at 7 p.m., where they aim to conclude this three-game homestand on a positive note.