Men's hockey to face off with No. 3 Clarkson Friday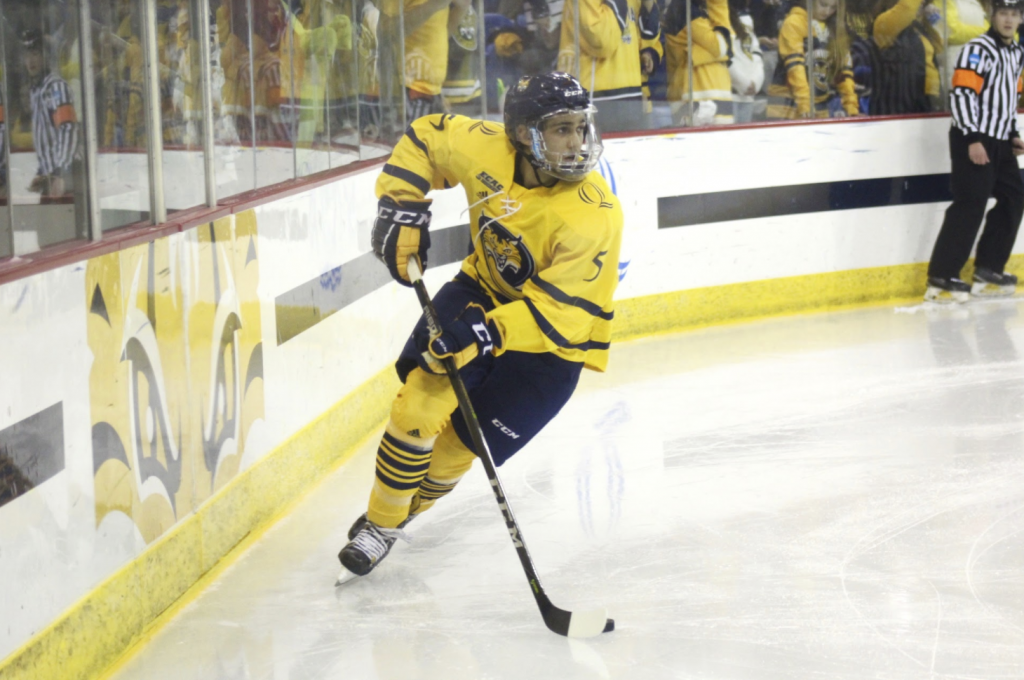 After a disappointing loss to the Princeton Tigers at home on Tuesday, the Quinnipiac Bobcats (9-13-4 overall, 4-8-2 ECAC Hockey) will welcome the Clarkson Golden Knights (19-4-3 overall, 11-1-2 ECAC Hockey). The Golden Knights come in off of a 2-2 tie to the Brown Bears last Saturday and have not been the same Golden Knights team that has dominated college hockey for a three-month time period. Clarkson is 1-1-2 in their last four games after coming off an incredible 14 game win streak, where they outscored opponents 56 to 15. The Golden Knights are ranked third in the most recent USCHO.com polls behind the University of Notre Dame, and fellow ECAC Hockey conference rival Cornell Big Red.
The Golden Knights are powered by a dazzling display of offense by their highly touted "Sophomore Line," who have contributed to 80 points this season. Sophomore right winger Sheldon Rempal is the second-leading scorer in the ECAC Hockey conference. Only Harvard's Ryan Donato is ahead of the 22-year-old from Calgary. The two time ECAC Hockey player of the week boasts a solid 30 points which put him atop the conference in that category. Rempal has had eight multi-point outings this season and registered a point in 14 of his first 19 games.
Clarkson is also strong on the back end as well carrying one of the best defense pairs in all of college hockey in 6-foot-1 senior Kelly Summers and 6-foot-2 senior Terrance Amorosa. Combined, the two account for 41 points and protect the net as well. Amorosa is credited with 27 blocked shots this season and Summers with ten more than his partner at 37.
In goal, the Golden Knights have one of the best goalies in the country in sophomore Minnesota native, Jake Kielly. Kielly sports an outstanding 1.59 goals against average and .940 save percentage, both good for second in the ECAC Hockey conference. Those numbers also have him ranked in the top three in the entire NCAA.
The Bobcats have had their struggles in the new year. They have only been victorious three times in 2018 and have yet to win on home ice. In fact, the last game the Bobcats did win at home, was a November 18 game against Yale which they won 3-0. In the 76 days since the Bobcats last home win, there have been many concerns with the team, which were voiced by head coach Rand Pecknold after Thursday's loss to Princeton. In his postgame interview, Pecknold said, "I thought the coachability for a good chunk of our guys was poor." He later said that "guys are just not buying in."
For the Bobcats to take down the number three team in the nation, they're going to need all 22 players to be on top of their game and ready to go.
Tune in as Quinnipiac hosts the Clarkson Golden Knights at 7 p.m. Friday night at the Frank Perrotti Jr. Arena. Dan Bahl and Steven Pappas will have the call on mixlr.com/qbsn.