Women's hockey falls to No. 1 Clarkson on Senior Night, 2-0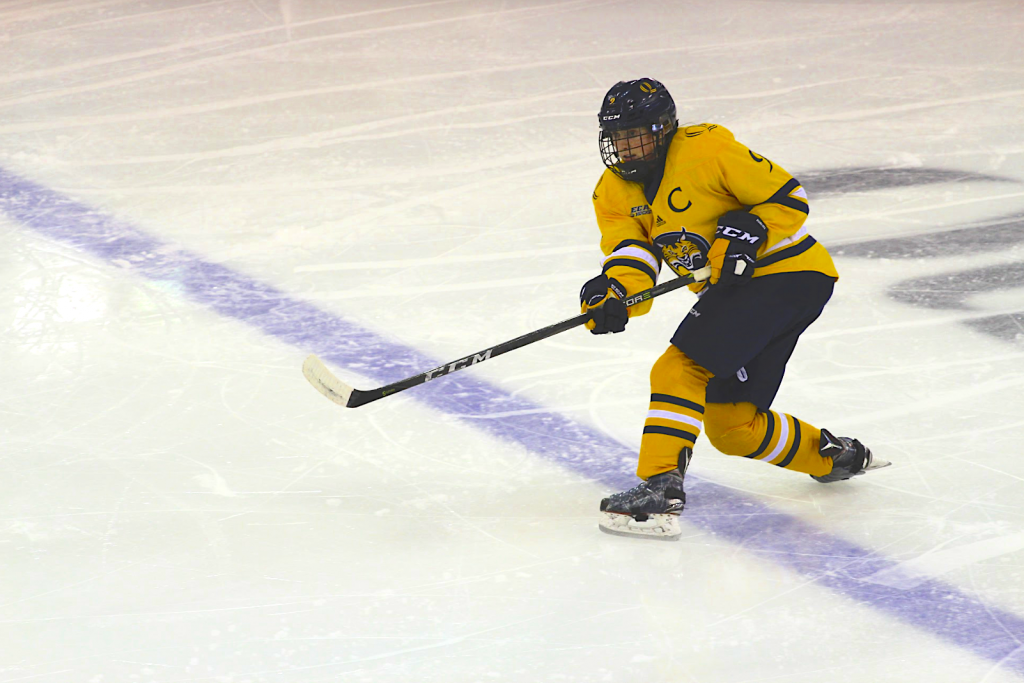 The Quinnipiac women's ice hockey team (15-14-3 overall, ­11-8-1 ECAC Hockey) fell to No. 1 Clarkson (27-4-1 overall, 17-3-0 ECAC Hockey) Saturday afternoon by a score of 2-0. After previously upsetting the number one team in the country earlier in the season, the Bobcats offense was quieted by Clarkson's senior goaltender Shea Tiley and the defense of the Golden Knights on Quinnipiac's Senior Night.
Quinnipiac controlled the game in the first period, heavily outplaying Clarkson and getting very good goal opportunities. But despite outshooting the Golden Knights 11-5 in the period, the game remained scoreless.
"We had a good start to the first period," senior forward Raquel Pennoyer said. "We caught them off guard and we wanted to continue that throughout."
In the second, Clarkson came out with better energy and looked much more like the country's best team, putting Quinnipiac on their heels. Then, about halfway through the period, junior winger Kenzie Lancaster took a roughing penalty, putting Clarkson on the power play. Clarkson worked the puck down low, and then senior defender Savannah Harmon fed freshman Elizabeth Giguere right in front for the one-time goal.
Before the end of the second, a scary sight occurred when sophomore goaltender Abbie Ives went down with an injury and had to be taken out of the game and would not return. Ives finished the game with 11 saves. Freshman Allison Small replaced Ives in net.
"[Ives] is definitely a big part of our team," Pennoyer said. "But when someone goes down, someone has to step up. We're always rallying for [Ives] and the person right behind her. We had complete confidence in Small."
Just 34 seconds into the third, junior forward Rhyen McGill picked off a pass from Quinnipiac's sophomore defenseman Kati Tabin in the Quinnipiac zone and beat Small top shelf over her blocker to extend the lead to 2-0.
McGill's shorthanded goal would mark the end of the offensive production from either side, as neither team mustered up much offense for the rest of the third and the game ended in a 2-0 Clarkson victory. Clarkson outshot Bobcats 29-25, as Tiley collected her 26th win and her 9th shutout. The Golden Knights bounced back for the win, after being upset last night by Princeton by a score of 2-0.
With just two games remaining and playoffs coming around the corner, Quinnipiac is continuing to fight for a top spot in the ECAC Hockey tournament. They currently sit at fifth place in the standings, with games against Brown and Yale left.
"I think it was a great weekend," senior defender Alicia Barry said. "There were obviously moments that we know we can work on going into the last weekend and into the playoffs, but I think overall, we grew as a team. We learned a lot that we can do to improve on, but also stuff that we did much better than beforehand."
Quinnipiac will play Brown (2-24-0 overall, 1-18-0 ECAC) Hockey next Friday, February 16 at 6 p.m. in Providence, Rhode Island.